Would you like to learn affiliate marketing online, in two weeks, in a live case study with an expert coach?
If your answer is yes, this article is for you.
I invite you to join our community for free, to be able to attend the 14-day course (for FREE) that will walk you through the process from A to Z in affiliate marketing.
Classes consist of approx one hour each day for 14 days.
You can join the chat group an hour before the class begins and interact with other students.
You can join the live chat to ask questions at the end of each session.
Who is the Course for?
This course is ideal for anyone wanting to start their own business and get an overview of the work it entails to achieve success.
Do not miss out!
The 14-day live case study is by an expert coach in this field.
Details of the Course
Course Title: Research to Profits Step-by-Step
Duration: 14 days LIVE
Course Dates: 18-31 Oct 2021 PDT Time 5:00 PM (19 Oct-1Nov CET 02:00 am)
Class: approx 45min-1hr each followed by live Q & A with the expert host
Host: Jay Neil
Goal: Build your niche website from scratch
The course covers the following topics;
Day 1: Niche Research – brainstorming to find a viable, lucrative niche
Day 2: Affiliate programs – how to find programs to promote
Day 3: Keywords – find keywords that bring you sales
Day 4: Build your website
Day 5: Tracking of who´s visiting your website
Day 6: Social Media setup
Day 7: Writing content that people enjoy reading
Day 8: Content Strategy – plan your writing
Day 9: Content Creation Calendar
Day 10: Writing your 1st blog post
Day 11: Writing your 2nd blog post
Day 12: Build and grow your Social Media
Day 13: Outsource work
Day 14: 3rd blog post by writer
Feedback of Day 1 of the Course
Here is some feedback after the first session.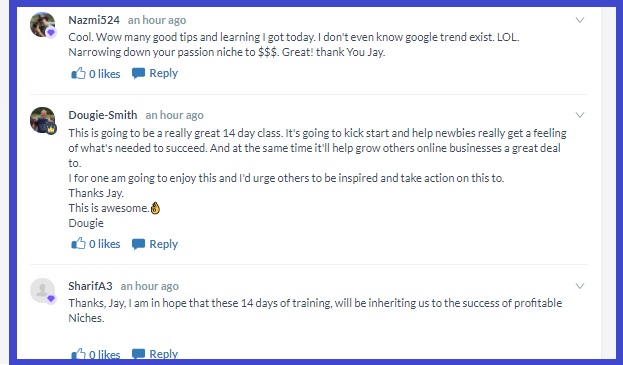 Learn Affiliate Marketing Online – Pricing
The 14-day live sessions course is available for 0 USD (zero dollars).
How do I enroll?
Follow these simple steps:
Join our affiliate marketing community for free. Create an account here
Enroll in the Research to Profits 14-day live case study. 
Show up every day. Take as many notes as you can, chat with other students, ask questions after the live sessions. 
Use your free membership to deep dive into this wealth of information and knowledge. 
What Happens When The Course Ends?
You have the following two options:
Stay on board, continue learning and interacting with experienced and successful members of the community. Enrol for one month at a special price. During this time, you also have the opportunity to start building your own business online.
Go on with Life. You decide affiliate marketing is not for you, walk away with the knowledge gained from this course. No commitment, whatsoever.
14 Day Challenge Affiliate Marketing
So, are you convinced to take this 14-day challenge and start your own online business? This course covers all you need to know to start and grow your business online.
If you follow the course carefully and take notes, you will be able to choose a niche according to your interest, build a website, market it to attract traffic, and start selling.
Then you rinse and repeat.
TIP: Dedicate time to learn as much as you can during the 14-day free trial
Best of luck, and enjoy the course.