Are you starting a new blog or a website for your online business, and you are having a hard time to choose a 'niche'? Allow me to help you with some ideas below on how to choose a niche for a blog.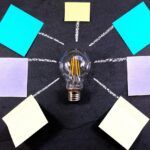 Your first big step when starting a long term online business is to choose a profitable niche, along with the selection of the right domain name. I assume and I hope your mindset here is to make money.
To start with and to decide what your business is about, do some brainstorming when you are in your creative mood. Simply brainstorm, and get all your ideas on the table. Make a list of what you like; hobbies, knowledge about something in particular, etc. Just write them all down.
Now let´s see what a niche is all about.
---
What is a Niche?
A niche targets a separate market segment, a special necessity, a specific product, a particular hobby, or a common idea that is researched online etc.
Imagine a crowd of people with the same interest, looking for a specific product or a range of products in the same category. What can it be?
Think of presenting a product of interest to an audience or revealing a new product unknown to them. What could it be?
Think of going to a specialised store where you look for a specific product or service. What can you purchase and what particular store do you go to?
Imagine a group of people looking for your help and to whom you can provide a product or service that they need. What kind of help can you give?
---
How do I Know What Niche is the Right One for Me?
Your objective is to write good content of any product or service for any of the above mentioned selected group of people.
A niche is ideally something you are passionate about as you need to write plenty of material and you have to be motivated for a long time. Keep in mind the more you like the subject or niche, the easier it will be for you to do research and write about it. This will be more fun and you will enjoy working better.
Now it is time to ask yourself;
What are you good at?
What are your hobbies?
What do you enjoy talking about the most?
How well can you converse about this idea with your friends and family?
If you are still unsure, you can start browsing for ideas, start reading about something new, either online or grab some magazines. Once you find a niche you like, the more you read about it, the more you become an expert.
At this point, you already have more information on that particular subject, more than the average person on the internet. So you can choose that as your niche and start writing about it. You should never copy what you have read but you can take the ideas and rewrite in your own words, adding your emotions and experiences you read of other people, perhaps from comments and forums you find on the net.
Avoid selecting a broad niche when you are starting off. If you are more specific at this stage, it is much better. I will explain this in the next section; choosing a niche?
---
How to Choose a Niche for a Blog?
3 of the best and successful niches are definitely health, wealth & romance or love.
In saying that, it does not mean you should limit yourself to these 3 broad niches. There are so many other interests out there as in fitness, sports, outdoor activities, travel, leisure, clothing, and cooking, home decoration, food, learning, teaching, music, dancing, and pets, to name a few.
If you had to check the market size for each of the above, you will be amazed at the numbers.
Within each of the above broad niches there are heaps of narrower niches that are in demand on the market;
Have a look at the search engines; yahoo, google and bing and you will find there are plenty of searches for each niche. This means people are searching for information related to that niche market.
Your job is to write about the information these people are looking for on the net. You will be writing facts and giving those possible solutions to their problem, advice what products they should look for, recommend a specific diet and so on. This is what people are searching for continuously online. Here are some ideas;
Broad and Narrower Niche Examples
Health is a broad niche. A narrower and more specific market niche would be;
Losing weight or narrow it down even further to; losing weight when over 50.
Gain weight
Hair loss
Specific diets; keto diet, gluten-free, vegan
Mental health
Pets are a broad niche. A narrower niche would be;
Dog food; for puppies, for a specific pedigree
Treats for dogs
Chew toys for dogs
Travel is a broad niche. A narrower niche would be;
Luxury travel
Backpacking
Cheap travel
Ecotourism
Travel with kids
Travel bargains
---
Where Can You Find More Niche Ideas?
Amazon has a whole range of categories to choose from and each sub category can be your niche.

Search engines: enter a word or phrase and you can see what people are searching online.

In the same way you can also check You Tube and other social media and see what is trending, what people are asking and looking for.
Now you can make any of the above phrases your Niche.
---
Should I worry if my niche has big competition?
The answer is NO. With the use of a good keyword search platform, you can come up with as many low competitive keywords, to be able to rank and compete.
I was always taught not to be afraid of the competition. You are who you are, unique as an individual or as a company, and you deliver the information your way, and nobody does it the same way. If you do a good job and you are consistent, as, in any other business, you will succeed.
---
How to Earn Money with Your Niche?
This is important to take into consideration when choosing your niche. You do not have to find all the products and merchants on your first day, but you do have to be sure there are businesses out there who can provide you with a product or service related to your niche, to be able to offer it to your audience.
A great and easier way of finding many products and merchants in one place is to join Affiliate networks. A few of the popular ones, especially for beginners are;
Amazon Associates
Besides, most major companies do have their own affiliate program, and sometimes it is worth joining their program directly as they may even offer better commission.
---
Challenge Yourself
Don't let the idea of picking a niche scare you? I hope the above information has helped you figure out what a niche is, and now you have a better idea of what niche you can opt for. You will only struggle because it is your first blog and your first niche. Once you understand the concept of it, it will be a piece of cake for you to select a niche in the future.
Basically, every niche is a commercially viable business. Keep it simple. You practically have to go over the process in this article and select the niche that is more relevant to you. Challenge yourself and decide on a niche in the next 30min. Good luck!
Share your ideas in the comments below.
Disclosure: This post contains affiliate links. For more information please see my disclosure here
---
ALREADY ITCHING TO START? Then click here to begin your online business journey for FREE.
---