In this SLVRSPN review, I will cover what the course is about so that you can decide if this is the right one for you.
If you are looking for A Simple How To Guide In Affiliate Marketing that is complete yet affordable, then SLVRSPN is the course for you.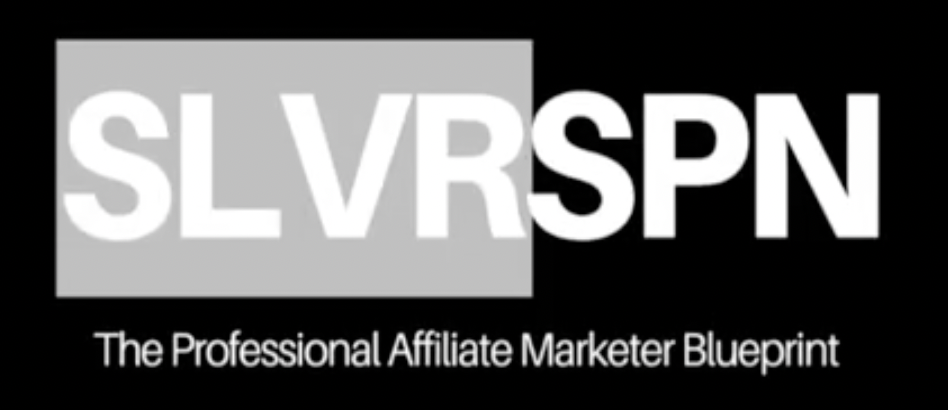 Disclosure: This post contains affiliate links. For more information please see my disclosure here
SLVRSPN Review – What is The Course About?
| | |
| --- | --- |
| Course | SLVRSPN |
| Founder | Chris Hardy |
SLVRSPN will walk you through the A-Z in Affiliate Marketing in easy-to-follow, over-the-shoulder tutorials.
You are spoon-fed on how to do everything throughout the course. A really excellent guide.
As you will see in the introduction above, the SLVRSPN course aims to expose the scammers out there, tell you what they think, and how these professional marketers successfully manage to convince their clients – i.e.YOU – to buy.
If you´ve been researching online, you may have probably heard or know about them. Hopefully, you have not been scammed. It is interesting to know how they operate so you can avoid possible scams in the future.
If you are planning to make a living online, you will find this information useful.
The SLVRSPN Course is divided into sections. Ideally, you follow the course sequence. It is set up in a way to build your business step-by-step. However, you can go directly to the subject you are most interested in, say TRAFFIC.
Every module is independent and has value on its own. Some of the content you find inside SLVRSPN includes:
Introductory section to Affiliate Marketing
Finding your audience, why, and how
Finding your niche and building your online business
Building funnels and email marketing
Traffic sources that work
Supportive Community
and more
Chris is a great communicator, he speaks clearly at a pace you can follow. He understands the situation you are in – he´s been there – and has answers to almost all your questions in affiliate marketing.
View the video below to hear directly from Chris Hardy, the founder, what´s the idea behind the SLVRSPN program.
An important feature of the course is you will get spoonfed tasks to complete at the end of each section.
You are also given links and names of important pages and tools for your research.
SLVRSPN Review – Who is The Course for?
Do you fit in any of the following:
If you are a beginner in affiliate marketing, and you want to know the whole process from A-Z.
If you already know about affiliate marketing, and for some reason, you are not getting results, then the course will be useful so you can find out what's the missing piece, and work on it.
OR
If you are a more experienced affiliate marketer and want some extra tips and tricks from a pro.
Now, let´s have a look a the pros and cons of the SLVRSPN Review
SLVRSPN Review – Pros
SLVRSPN is already a complete product guide. Chris plans to add more material to it so it can only get better.
Here are some advantages.
Over-the-shoulder tutorials. Very similar to what you will be doing to set up and work on your business; look for products, source traffic, etc.
No fluff. To the point and you learn the ropes in affiliate marketing.
Not Boring. It's not a lengthy never-ending program that may discourage you to continue. Just enough tutorials to cover all the steps involved in affiliate marketing.
Professional. SLVRSPN is created by an experienced and successful Affiliate Marketer. Chris uses a demonstrator teaching style that is effective. Just follow along.
Easy. The tasks given are easy to follow and literally spoonfed.
No secrets. You are given all the links and go to pages to look for keywords, add plug-ins, etc. without having to spend extra money.
Organic SEO. You will learn the organic way of getting traffic to your site, without relying on advertising.
Content Creation. The course covers how to create both written content and YouTube content so you may opt for one or both of them.
NO Upsells. Best of all, there are no upsells. What you see is what you get. No scams.
Note: The special price is available for a limited time. It may change to a monthly subscription in the future.
Tricks and Tips. The course includes tricks and tips on how to accelerate the process using some paid tools if you wish to follow this route.
SLVRSPN Review – Cons
The training is over the shoulder and it is great. However, as a beginner, you may be confused with all the jargon, tools, and products mentioned.
If this happens, you may have to go through the tutorials again or ask a question to the community in the SLVRSPN group chat.
SLVRSPN Review – My Experience
I came across the SLVRSPN course by accident. I was looking for a review of another product on YouTube, and Chris was the only one giving an honest opinion about the NOT SO GOOD PRODUCT.
I watched a few more tutorials by Chris, just to make sure he´s legit. Then I went on, followed my instinct (as I normally do), and signed up for the SLVRSPN course Chris was promoting on his channel.
I went through the initial introductory video, and I immediately realized SLVRSPN is a professional and legit course by an experienced marketer, who knows what he´s talking about.
I ended up purchasing the SLVRSPN course to see what´s inside.
The course is legit, action-filled, and there´s no fluff.
Conclusion
In this SLVRSPN Review, I give you information about the SLVRSPN course, an excellent how-to GUIDE in affiliate marketing.
Possibly, the SLVRSPN course answers all the questions you may have regarding affiliate marketing. No kidding.
The method is easy to follow, over-the-shoulder training, and you can refer back to the tutorials until you complete the tasks.
Task sheets are included after each section. These will guide you to organize your work, and tell you exactly what you need to do. Make sure you don't skip any of the tasks and mark the ones you've completed before moving on to the next.
This really helps you to keep going.
I hope you found the information useful. If you did, do share it with your friends who also want to know about Affiliate Marketing, and start their online business.
If SLVRSPN sounds like the product you may need, go ahead and check it out.