Is UserTesting.com Legit? In this article, I will give you information about the platform and how it works. I will also reveal if it is a legit company and if you can make money online.
In this digital era, everyone is creating some sort of website, App, or e-commerce business. And in the initial stages, these companies need to have their sites tested by real people before launching.
This is where UserTesting.com comes in. UserTesting.com will, on behalf of the client, use your services to test these new sites for user experience.
Top brands like Samsung, HP, and AliExpress are some of the companies that request clients' feedback for their online products on UserTesting.com.
What is UserTesting.com
UserTesting.com is a platform where you can work flexible hours testing websites and earn some money online.
They accept contributors from all over the world.
You can do the tests on your computer and also download the UserTesting.com App on your mobile device. Sometimes you are asked to go to your phone and complete the task there.
You can use both IOS and Android phones.
How Does UserTesting.com Work?
As a user tester, you are basically required to give your opinion and suggestions about websites as if you were a real customer visiting these sites.
It is easy and quite fun to do. It is like going through a site to make a purchase and thinking out loud during the searching and buying process.
Tasks include checking:
the design and layout
if the site is userfriendly
speak your thoughts
correct any language mistakes (especially if it is a test using another language)
give your own recommendation
participate in live chats if you choose to
participate in live video conversation if you choose to
A typical task takes about 10-20 min to complete. Live interviews are 60 minutes or longer.
When you finish a task, it will be uploaded to your platform and then rated. You will get paid after the test is accepted. You can see the payment status on your dashboard and it takes 7 days to receive the payment.
How To Sign Up for Usertesting.com
Then go to your email to verify your email address.
Next, you will be asked to do a trial test.
You are not paid for the initial test, but when approved you can start taking real tests.
How To Pass The Practice Test
Here are some tips so you can pass the test easily.
Watch the sample video on your dashboard, which shows you exactly what you need to do in the test.
Make sure there´s no noise around you.
Plugin your external microphone (or use the in-build one) and simply do what you are asked to do. A pop-up screen with text will show in the top right-hand corner. You have to click on it, then drag it up and down, then say that you are ready to speak out loud.
The following are two screen pop-ups you get whenever you are starting a test.
Screenshot No1: You will get 2 of these. First, you have to hit the blue arrow, then the blue button that says, Next Step. Then this window opens up again and you have to drag the screen up and down by clicking on the 6 dots.
Then another window opens and you have to say; I´m ready to speak out loud. Hit Next Step.
Screenshot No2: Another window opens asking you to share your screen. First, you have to click on the screen first, and then on the Share blue button.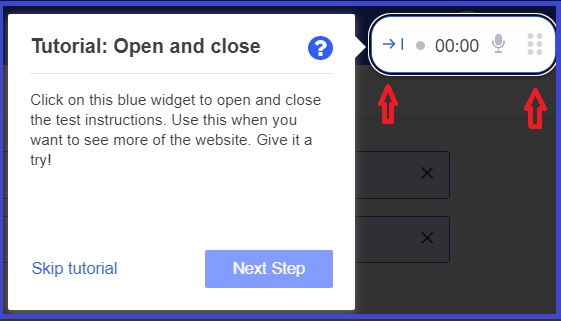 You are given a scenario followed by some tasks and questions.
Follow the instructions, do the task, then wait for approval. You should get a reply the next day, and you can start the real test earning real money.
Make sure you complete all tasks given as per instructions.
At the end of the task, you will be asked if you have any suggestions to add.
Making Money on UserTesting.com
How Much Does UserTesting.com Pay?
Depending on the tasks you qualify for, the pay ranges from 10 USD to 60 USD or more. Payment is via PayPal and it is submitted 7 days after you have completed the test.
How to Qualify for More Tests on UserTesting.com
Make sure you complete your profile thoroughly. UserTesting.com will give you tasks according to your demographic and job info, languages you speak, etc. So do fill in all the data in your profile.
It is important you get a high rating of 4-5 stars, so you will be offered tasks to do. Speak clearly and make sure there's no noise around you when you do the test. Do all the tasks given.
It also depends on what time frame you connect. I am based in Europe and the majority of the tests are available late evening. I assume if you live in the USA you will get more tests during normal working hours in the day. So please keep that in mind wherever you are in the world.
Note: If you get stuck at some point and you don´t know what to do there´s a button in the right-hand corner for assistance.
If the system crashes and your test is interrupted, you may have your account stuck for a while which may last up to 90 minutes. This happens because the system does not realize you´ve left. Then it will be released automatically and you should be able to start a new test.
You may be asked to add Chrome extensions to carry out some tasks, like a Browser Recorder. These extensions are free to install.
TIP: If for some reason you are given a low rating for any of your tests, do contact support to review your test, especially if you think it´s an unfair rating.
UserTesting Ratings
If for any reason you get a low rating that is not justified (perhaps you pushed the sent button too early and did not finish the task), you can write to UserTesting support for review. UserTesting QualityTeam will review the test and determine if the low rating is warranted or not.
Pros and Cons of UserTesting.com
PROS
You only need a Computer and/or Phone, an internet connection, and a microphone
Easy to sign up as a tester
Free to sign up as a tester (businesses who want to test their sites must pay)
The response to your tests is very quick
Your tests are uploaded immediately on your dashboard, so you can keep track of your work.
Payment is on time
No need for experience or qualifications
Easy to do the tasks you qualify for
CONS
You need to speak English fluently
Can only receive payment via PayPal
You need to be very patient as you will be denied for most of the tests. This depends on your profile and location
Support may take a couple of days to get back to you, but they do reply
My Verdict
Is UserTesting.com legit
Yes, UserTesting is legit as I have signed up and tested it myself and found no scams.
UserTesting has become a publicly-traded company on the NYSE (the New York Stock Exchange).
How Much Money Can You Make On Usertesting.com?
It depends on your location and the time you connect. You can easily make 300 USD / month.
I signed up, my test was approved the next day, then did some tests on UserTesting.com (on both PC and Android phones). I earned 70 USD in 2 weeks and I received the money in my PayPal account, exactly 7 days to the minute after completing each task. All the money goes to your PayPal account without any fees charged.
Who Is Usertesting.com for?
I would recommend UserTesting.com to those who are working on a computer and would like to earn some extra cash. You simply leave the UserTesting.com tab open and when you hear the ´ding´ bell, do a quick screener (a couple of questions) to see if you qualify or not for the test.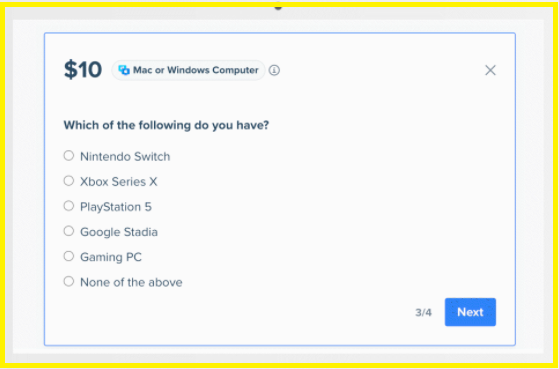 Tests take a short time to complete, so you can take a break from whatever you are working on, and do the test.
I suggest you use an external microphone if you are testing from your computer. You don't have to get a sophisticated one that costs a lot of money but a microphone does help so your voice comes out clearer when speaking.
To start with, use your in-built microphone.
Here are some contributors´ reviews.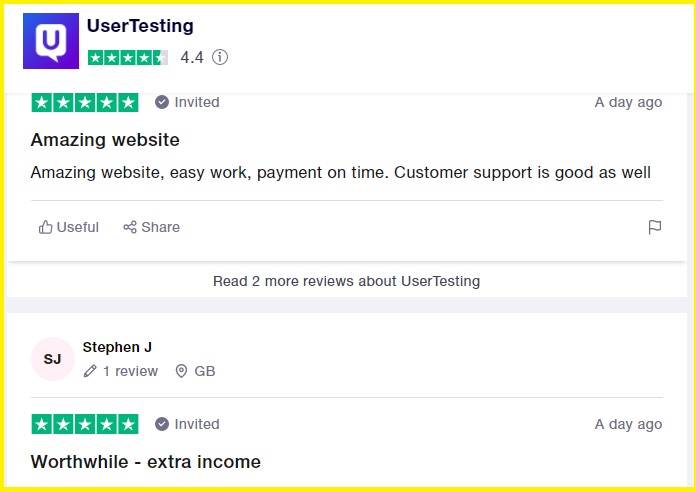 Conclusion
In this article, I give you information about UserTesting.com and confirm that it is a legit site.
Signing up is free of charge, so if you want to give it a go and see if it's something you'd like to do to earn some extra cash, then go ahead and try it.
Due to the limited number of tests you get daily, do not expect to get rich, but you can make approx 10-30 USD per day or more if you manage to get approved for some tasks.
UserTesting.com accepts contributors from around the world, and you have to have a PayPal account as that is the only way they pay.
I hope you find this information useful and wish you the best of luck to earn some extra cash online.
Disclosure: This post contains affiliate links. For more information please see my disclosure here
Pros
Legit Company
Pays On Time To PayPal Account
Cons
Need to be Patient to Qualify for Tasks
Can Only Make a Side Income