Have you ever wanted to create a kid's illustration book? What if there´s an easy method you can follow to create your first book? Children´s Book Creator Review will provide you with information about the course, and you can decide if it is what you are looking for.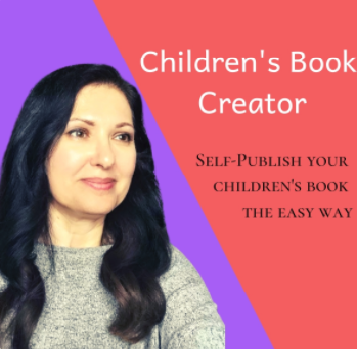 In short, this is what you need to do.
Follow the training step-by-step, and…
By the end of the course, you will have your children´s illustrated book for publishing.
Ready to find out more? Read on.
What is Children´s Book Creator Course About?
| | |
| --- | --- |
| Course | Children´s Book Creator |
| Authorpreneur | Nuria Corbi |
Children´s Book Creator by The Home Boss by Nuria Corbi has just been launched, and it covers all the topics required to write a kid's picture book. From coming up with an idea, finding illustrations, writing the script, publishing, and promoting your book.
The course is professionally set up and also fun to follow. It is explained in short educational videos, so it never gets boring.
Besides, Nuria has a pleasant calming voice that enables you to focus and is easy to follow.
Children´s Book Creator is divided into 9 modules which I will explain briefly below.
The whole course is also available in ebook format for those who prefer to read the content besides watching the videos.
Disclosure: This post contains affiliate links. For more information please see my disclosure here
Who is Children´s Book Creator For?
The training course teaches you how to plan, write and prepare the book to self-publish on the Amazon KDP platform. Whether you have experience or are a total beginner in self-publishing children´s books, you can benefit from this course.
Selling children´s books on Amazon is a lucrative business. If you already publish low-content books on Amazon, you can step up your business by self-publishing children´s books.
One good example of a successful picture book, The Very Hungry Caterpillar by Eric Carle, sold 43 million copies since its first publication in 1969.
Children´s Book Creator Course Structure
Self-Publish A Book Step by Step
The e-course is divided into 9 modules as follows:
Module 1
An introduction to self-publishing and explains the easy method to create a children´s book from illustrations.
Module 2
Learn how to create a framework for your book and other technical details about the book size etc.
Module 3
Module 3 is about building your story and making it interesting.
Module 4
This is the longest and perhaps the most exciting part of the Children´s Book Creator. You will be watching over Nuria´s shoulder whilst she is creating her book. The process is a rather fascinating and surprisingly easy method.
Module 5
This is about choosing an appropriate book title and doing keyword research.
Module 6-8
Once you finish writing your book, you need to create a cover and then upload the manuscript for publishing. These modules will walk you through the whole process.
Module 9
This is all about marketing your book in different ways.
As you can see from the above, the course is comprehensive.
The Pricing
At the time of writing, a one-time payment of 147 USD.
Pros
No Design Experience Required
Simplified Method To Create Children´s Picture Books
Tools Required
A free design tool is used during the course. You are guided on how to find free and paid images.
Support
Worksheets and examples are provided to help you with planning and generating ideas. You can ask questions on chat or the Facebook group for members only. The members are all excited about creating their own books and sharing their experiences.
Good Value for Money
It is a one-time payment, and you will learn how to create and promote a book from A-Z from an expert who has already self-published quite a few books.
Cons
None, really.
My Verdict
I have really enjoyed the course and would recommend it.
There are two ways you can use the course to create your first book:
1. Watch all the videos to get to know the whole process. Then write your book.
2. Create the book whilst following the step-by-step tutorials.
You can refer back to the course anytime during the creation of your first book, the next one, and the next one.
Conclusion
In this article, I review Children´s Book Creator by The Home Boss by Nuria Corbi, and I include a short description of each module.
Nuria's method is an alternative to the traditional one, easy to follow and put into practice.
If you ever hesitated in getting your first book started, this course will encourage you to take action, write the book, and self-publish your first Children´s picture book whilst taking the course.
Nuria walks you through the whole process; coming up with the idea, doing the research, finding the images, and writing the book.
The tutorials are motivational and make you want to write your own book.
Note: I've already done the course, and I'm in the process of publishing my first children's picture book. Yay!! ? If you have any queries, please do not hesitate to ask.
Go ahead and check the course. The Facebook group of Children´s Book Creator is already very active, and there are good vibes.
You will learn to make this book in the course:
And here is my first Children´s Picture Book just published: