If your enterprise lies within the realm of selling T-shirts, there's a chance that you've come across a tool named Merch Informer. Merch Informer—What is Merch Informer – Review and how to use it.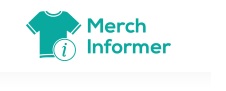 Keep reading to delve deeper into the nuances of this software and to make an informed decision if it deserves a portion of your investment.
Success in online selling stems from understanding the needs and wants of your customers—essentially identifying what they are ready to part their money for. To create a product that meets their demands, thorough research is not just an option but a necessity.
Leverage a good research tool to explore the realm of best-selling products, drawing inspiration for your own creations. It's all about investigating what's currently in demand in terms of graphic styles, font choices, color themes, and so on.
What is Merch Informer?
Let´s have a closer look.
Merch Informer is this totally versatile tool that's ready to lend you a hand in finding those profitable niches and all-important keywords for your print-on-demand t-shirt business on Amazon Merch on Demand (formerly Merch by Amazon).
What's cool about Merch Informer is that it works using an API to gather all sorts of useful data from the Amazon marketplace. You can check out this information in real-time with just a quick click or two.
Think of it as your trusty sidekick to speed up your niche and keyword research, freeing up some precious time for you to work on crafting your killer designs.
Oh and guess what? Merch Informer is the brainchild of Neil Lassen, a pro at selling on Amazon Merch on Demand. So you're in good hands!
What is Amazon Merch on Demand?
Welcome to Amazon Merch on Demand unique space where you can let your designs shine on various merchandise, like T-shirts, sweatshirts, phone cases, tote bags, and more!
The cool part?
Amazon takes care of all the nitty-gritty details for you: printing, packaging, shipping, and handling all customer service for every purchase of a product featuring your design.
And hey, signing up for Amazon Merch on Demand is totally free! With just a few simple steps, you can dive right into selling your designs online.
Don't miss out on this opportunity! It's one of the rare online ventures that let you start without any upfront costs. Give it a whirl as a side gig, and there's even a chance it could evolve into your full-time business. How exciting is that?
What is BSR?
The Key to evaluating product success on Amazon.
Introducing BSR, or Best Sellers Rank—is the essential data point that you need to pay attention to in every listing. It reveals how well a product is selling on Amazon.
When you see a product with a BSR, you know it has already found a home with at least one buyer on Amazon.
Remember this golden rule: lower BSR equates to higher sales. In a nutshell, the more popular the product, the lower the BSR.
How about a convenient way to view the BSRs of every product at a glance?
Simply add the DS Amazon Quick View extension to your Chrome browser—it's free, and it strikes the perfect balance between functionality and convenience. The result? A seamless and efficient browsing experience.
How Does Merch Informer Work?
Let´s dive in behind the scenes.
Wrapped up within Merch Informer, you'll stumble upon a goldmine called Merch Academy. This wholesome package is chock-full of tutorials ready to walk you through how this nifty little tool works. But that's not all—it generously offers a wealth of tips to help you conquer the world of Amazon Merch on Demand!
You see, the mastermind behind Merch Informer is a fellow Amazon Merch on Demand seller. So, he crafted this tool out of his experience and heart to ease and elevate the journey for other sellers. It's like having an experienced guide, helping you make your way through the exciting yet tricky landscape of online merch sales!
Valuable Tools for your business research:
Merch Informer is not merely a platform, but a treasure trove brimming with tools that can significantly enhance your print-on-demand business research. Here's a closer look at some of the most favored tools routinely used by successful Amazon sellers.
Product Research Tools on Merch Informer
An Introduction to Merch Informer Free Research Tool
Merch Informer is a comprehensive research solution designed specifically for Amazon sellers. It offers a well-featured free research tool that helps in identifying market trends and making informed product decisions.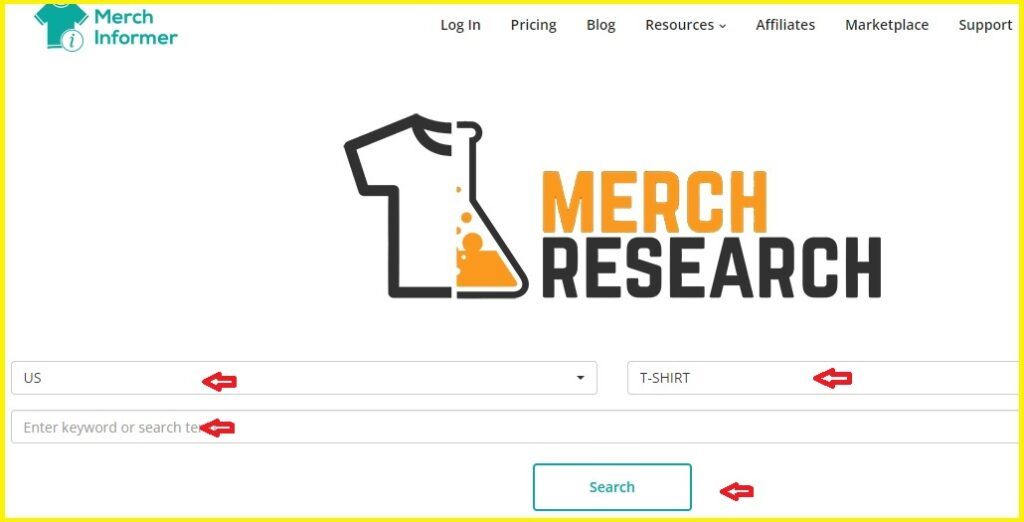 The tool provides a wealth of data including Best Sellers Rank (BSR), estimated sales, reviews, and more. It supports a wide variety of Amazon sellers, from newbies to seasoned veterans.
Selecting the Market and Product Type (see above illustration)
Step 1 – Start by navigating to the drop-down menu labeled "Market".
Step 2 – From the options available, select the desired market (US (USA), UK(United Kingdom), and de (Germany).
Step 3 – Next, move to the next drop-down menu labeled "Product Type" and choose the type of product you're interested in (T-shirt, etc)
Searching for Listings
Merch Informer offers two ways to search for listings.
Leaving the Search Area Blank: By leaving the search field blank and hitting the search button, all the listings for the chosen market and product type will be displayed.
Entering a Keyword: Alternatively, you can type in a specific keyword in the search field and hit search. This will pull up all the listings related to that keyword within your selected market and product type.
Conducting Further Research with Paid Tools
For more detailed research, consider upgrading to Merch Informer's paid tools. These tools offer advanced features such as tracking competition, identifying trending niches, analytics, and much more.
If you´d like to dig further and do more research, then use the following paid tools.
Merch Informer Product Search Tool
This is where you enter a KW (keyword) and find the rating (A-F) for that listing. You want to target listings with competition ratings between A-C. You also get the average BSR for that product.
Other useful data is the price range, a list of the most popular keywords that you can make use of in your listings so your designs can be found by the customer.
Packed with several valuable features, the Merch Informer product search tool is your ideal sidekick, offering unbeatable benefits to help catapult your sales.
Accessing the Product Search Tool
Accessing our tool is a breeze! Simply navigate to our website, log into your account, and locate the product search tool.
Begin the search process by inputting your selected keyword (KW). The tool then assigns a rating, from A through F, based on the competition level for that particular listing.
It's recommended to focus on listings with competition ratings within the A to C range. Also, the tool provides an average Best Seller Rank (BSR) for the searched product.
Analyzing the Results: The tool displays the average Best Seller Rank (BSR) for each product, offering you a quick glance into its sales performance.
Beyond these, you also gain access to several practical data including the price range for each product listing, and a compilation of the most trending keywords. Incorporating these popular keywords into your listings can boost your product's discoverability by customers.
Unveiling the Power of Merch Informer's Competition Checker
The Merch Informer Competition Checker is more than just a tool—it's your secret weapon to uncover profitable niches even before you start creating your product designs.
It's an invaluable resource that invites you to explore and uncover potentially profitable niches, gauging their lucrativeness ahead of committing your time and effort to create designs.
This powerful tool is keenly designed to evaluate and present the competitiveness of a potential niche via a simple, intuitive rating system.
Operating on a scale from A to F, where 'A' suggests a less competitive niche and 'F' represents high competition, it provides a snapshot of your potential niche's competitiveness at a glance.
Additionally, Merch Informer's Competition Checker goes the extra mile by providing a list of usable keywords that could prove invaluable in crafting your product listings.
These are the most relevant terms associated with your potential niche, and integrating them into your listings can boost your visibility on Amazon, ultimately enhancing your chances of driving more sales and succeeding in your chosen niche.
On the whole, if you're looking to dive into the world of Amazon sales, leveraging the Merch Informer Competition Checker is a wise strategic move that can save you time, enhance your decision-making, and ultimately, contribute to your overall e-commerce success.
Who knows? Your next lucrative niche could be just a search away.
Decoding Merch Informer Trend Hunter
Merch Informer's Trend Hunter serves as your personal navigator to the best-selling listings. According to the specifications you set, it curates the top 100, 200, or more bestsellers. The tool encapsulates a sales past parsed from a historical graph along with price alterations.
For beginners looking to make their mark, this tool provides an excellent starting point for identifying trending and holiday-specific niches.
Exploring the Trend Tracker
The Merch Informer Trend Tracker plays the role of your insight provider, presenting a list of products that have been on an upward trend for up to three months. It's like having a finger on the pulse of market trends!
Capitalizing on Movers & Shakers
Merch Informer's Movers & Shakers module is your guide to profitable products that have recently witnessed a surge in sales. Leveraging this tool, you can ride the wave of recent trends.
Specifically, keep an eye out for products with Best Seller Rankings (BSRs) of 300k or lower.
A dip in the graph denotes a sale—possibly signaling an emerging trend, making it easier for you to spot and capitalize on them.
Discovering with Keyword Finder
Turn to the Keyword Finder when you're at a loss for the right search terms. It's the perfect assistant when you need inspiration.
Start by inputting any arbitrary keyword and watch as the tool conjures up results of top-selling designs related to your keyword.
You have the flexibility to save discovered keywords in your favorites for future use.
You also have the option to download these newfound keywords for your convenience.
An added feature of this tool allows you to explore the estimated monthly sales tied to a specific keyword.
Keyword Finder doesn't stop there! It also suggests related keywords, thereby broadening your domain of opportunities.
You're presented with a comprehensive list of related keywords to embellish crucial areas of your product listing such as the title, brand, and feature bullet points.
Moreover, you can verify whether these proposed keywords are trademarked with just a single click, ensuring you steer clear of infringements.
Merch Informer Designer
Discover the art of personalizing your vector graphics with the Merch Informer Designer. Check out the video tutorial and witness the seamless, creative process in action!
Merch Informer Trademark Check
The relevance of this cannot be overstated.
Safeguarding yourself from potential trademark breaches is essential when generating your designs for Amazon Merch on Demand.
A simple mistake of using a trademarked word, phrase, or image without commercial usage rights can risk your Amazon Merch on Demand.
If you find it challenging to determine or are anxious about whether a keyword might be trademarked, Merch Informer is here to simplify this for you.
While Merch Informer does offer this crucial facility, you can also utilize the free alternative – the United States Patent and Trademark Office Amazon Merch on Demand – for trademark searches.
Merch Informer Pricing
Merch Informer has 2 subscriptions to choose from. The main difference is that with the Pro plan, you get 100 vector images added monthly and access to the automated software tool that enables you to upload your designs to print-on-demand marketplaces. This Pro feature is a fantastic tool if you are a high-tier seller.
These are the rates and what each subscription includes. I do have a discount code below for 20% off if you wish to purchase.
Merch Informer offers two subscription options to cater to your specific needs.
The primary distinction between the two is that the Pro plan includes 100 vector images added every month, as well as access to an automated software tool that streamlines your design uploads to various print-on-demand marketplaces. You will also get 8000 Trademark trackings, as opposed to 50 Trademark trackings in the Newbie version.
The Pro plan feature is particularly advantageous if you are a top-tier seller.
Below are the pricing and inclusions in each subscription plan. Additionally, a 20% discount code is available for you to apply when making a purchase.
| Newbie | Professional |
| --- | --- |
| $ 9.99 / month (or $8.32/m billed annually) | $ 19.99 / month (or $16.65/m billed annually) |
| Starter Features | Full Features |
| Trademark Tracking: 50 | Trademark Tracking: 8000 |
| Zero Setup Required | Zero Setup Required |
| 24/7 Customer Support | 24/7 Customer Support |
| Merch Academy | Merch Academy |
| Merch Designer | Merch Designer |
| | Bonus: Merch Graphics Vector Pack (100/month) |
| | Free Access To The Single Upload Interface Automation |
| | |
| | |
Data from Merch Informer
Exploring the Merch Informer Pro Plan
The Pro Plan includes:
Access to the Single Upload Interface, enabling you to disseminate your Merch designs seamlessly across different platforms like Redbubble, TeeSpring, Spreadshirt, Zazzle, Printify, Printiful, and Gooten.
Receive 100 fresh vectors each month. These come in both PNG & SVG formats and are free for commercial use. Do ensure to review the vectors license agreement but rest assured, its terms are considerably flexible.
Note: The provision of 100 vectors per month itself justifies the subscription cost if you are not a designer. These hand-drawn vectors are a compelling alternative to commissioning an illustrator for designs, who would typically charge approximately $5 per design.
Quick Sales Tips for Amazon Merch on Demand
Here are a few pointers to help you boost your sales on Amazon Merch on Demand:
Focus on trends and holidays when you're in the lower tiers.
As you reach higher tiers, concentrate on evergreen niches.
Opt for niches with fewer than 200 competitors.
Explore markets beyond the US. Although it is the largest market, targeting other markets with fewer competitors can help you rise from Tier 10.
Showcase your creativity by developing unique phrases within your niche to captivate your target audience.
Set competitive pricing to stimulate initial sales and enhance your visibility on page 1.
Incorporate your most effective keywords into the title of your listing.
These tips should set you on the path to success in Amazon Merch on Demand. Best of luck!
Wrapping Up
If you're planning to turn your Amazon Merch on Demand into a business or deciding to scale it up, giving Merch Informer a shot with their 3-day free trial is a good idea.
You could manually carry out all the niche research using Amazon's marketplace search bar, but having your research tools — including the trademark check — all in one place can be more efficient.
When it comes to the Amazon Merch on Demand T-shirt business, there are two strategies you can consider:
If you're a newcomer who is still in the lower tiers, such as Tier 10 or Tier 25, you can start with manual keyword research. You might want to consider subscribing to Merch Informer once you've advanced to higher tiers and started generating revenue from T-shirt sales.
OR
If you're an absolute novice in the print-on-demand and Amazon Merch on Demand business and you wish to learn quickly, getting this tool could be beneficial. Neil, the creator and instructor, brings years of experience to the table, and you might want to learn directly from a successful seller, rather than investing in a standalone course. The tool suite not only provides you with beneficial research tools but also includes informative tutorials.
Why not use the 3-day free trial to test out Merch Informer?
If you decide to invest in a subscription, make sure to use the discount code included below to slash 20% off your purchase.
| | | |
| --- | --- | --- |
| Merch Informer Coupon Code: | marisa20 | Get 20% off |
Disclosure: This post contains affiliate links. For more information please see my disclosure here