If you are in the T-shirt selling business, you may have heard about the Merch Informer tool. But, what is Merch Informer? Read on to find out more about the software and if it is worth your money.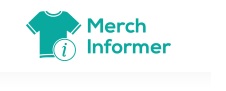 To be successful when selling online, you need to know what customers are purchasing. Then create that product for them. This is why doing research is important.
Use a research tool to navigate the best-selling products and take ideas of what´s selling in regards to the type of graphic, the fonts used, color schemes. etc
What is Merch Informer?
Merch Informer is a comprehensive tool that can assist you in hunting niches and finding keywords for your t-shirt print-on-demand business on Merch by Amazon.
Merch Informer uses an API to access and collect data from the Amazon marketplace. You can then access this data in real-time at the click of a few buttons.
It is essentially a tool that you use to do your niche and keyword research faster. This will save you time that you can dedicate to creating your designs.
Merch Informer is created by Neil Lassen, who is a successful seller on Merch by Amazon.
What is Merch by Amazon?
Merch by Amazon is a platform where you can upload your designs on different merch, including T-shirts, sweatshirts, phone cases, tote bags, etc. When someone purchases the product with your design, Amazon will take care of the printing, packaging, shipping, and all customer services.
You can sign up for free to Merch by Amazon and start selling online.
It is one of the few online businesses you can start for free, perhaps as a side hustle, and in time turn it into a full-time business.
What is BSR?
BSR is Best Sellers Rank and it is the data you should look for on every listing to see if a product is selling.
Every product that has a BSR means it has sold at least once on Amazon.
The lower the BSR the higher the sales for that product.
To be able to view the BSRs of every product at a glance you can install the DS Amazon Quick View Chrome extension. It is free.
How Does Merch Informer Work?
The Merch Informer tool includes a bunch of tutorials under Merch Academy that not only show you how the tool works but also give you many tips on how to succeed on Merch by Amazon.
This is due to the fact the creator of the tool is a Merch by Amazon seller himself. So he created the tool to help other sellers.
This is how the Merch Informer dashboard looks like.
Merch Informer has plenty of tools within the platform that can provide you with a lot of value for your print-on-demand business research. Below are the most popular tools used by successful Amazon sellers.
Product Research Tools on Merch Informer
Merch Informer Merch Research Free Tool
This Merch Informer free research tool pulls data of products sold by Merch by Amazon only (not Amazon Central, drop shippers, and other sellers).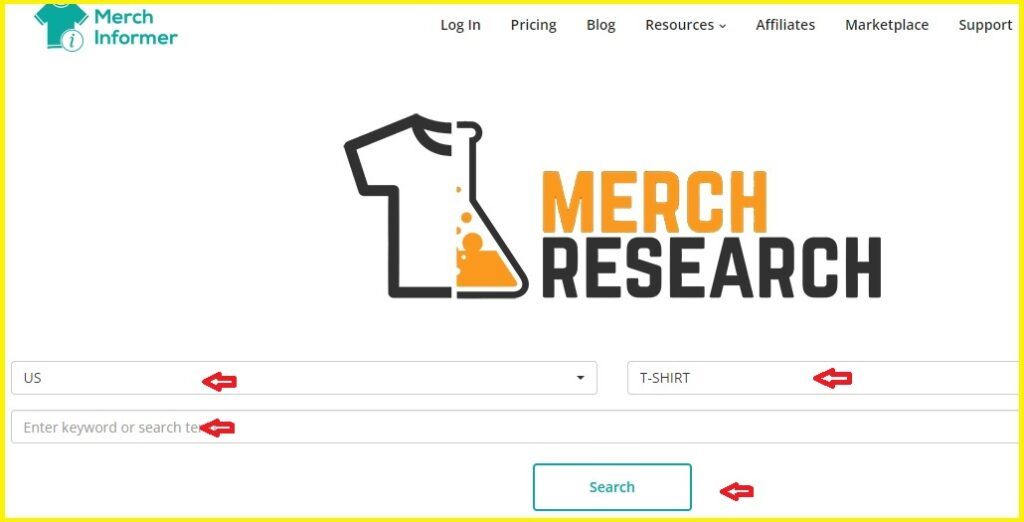 The way to use it is to select the market; US (USA), UK (United Kingdom), and DE (Germany) from the drop-down arrow. Then, select the product you want to target, T-shirt, hoodie, tote bag, etc from the drop-down menu.
Leave the search area blank and hit search to view all the listings that are ranking right now. OR
Enter your keyword and hit search to view the current listings that are selling in that particular keyword /niche that you entered.
If you´d like to dig further and do more research, then use the following paid tools.
Product Search
This is where you enter a KW (keyword) and find the rating (A-F) for that listing. You want to target listings with competition ratings between A-C. You also get the average BSR for that product.
Other useful data is the price range, a list of the most popular keywords that you can make use of in your listings so your designs can be found by the customer.
Competition Checker
Merch Informer Competition Checker Is a tool where you can spend time researching if a niche is going to be lucrative before creating your designs. It provides you a ranking letter A, B, etc, and a list of KWs you can use in your listing.
Trend Hunter
Merch Informer Trend Hunter is going to list the top bestsellers according to the number you choose, top 100 bestsellers, top 200 bestsellers. It includes a historical graph of past sales and price updates.
If you are a beginner you may want to check out this tool to find trending and holiday niches.
Trend Tracker
Merch Informer Trend Tracker will show you the list of products that are trending up, for up to 3 months.
Movers & Shakers
Merch Informer Movers & Shakers helps you find data for profitable products that have picked up sales recently. By using this tool you can catch a recent trend. Look for BSR rankings of 300k or lower. The drop in each graph will make you spot them easily. (Each drop means a sale and possibly a trend).
Keyword Finder
Use this tool to get help finding keywords when you have no idea what you are looking for.
Enter any random keyword and get results of designs that are selling.
Save the keywords you find in your favorites
Download the keywords you find
Check the estimated monthly sales for that particular keyword
Get suggested related keywords
Shows you a list of related keywords that you can use to fill out the title, brand and feature bullet areas
Check if these keywords are trademarked at the click of a button
Merch Informer Designer
Learn how to customize your vector images using Merch Informer Designer. Watch the video to see how cool and easy it is to do.
Merch Informer Trademark Check
I can't emphasize enough how important this is.
Make sure that when creating your designs you protect yourself against any trademark infringement.
You may lose your Merch by Amazon account simply by uploading a design using a word or phrase that is trademarked, or even an image that has no commercial rights usage.
If you are struggling to figure out or stressing yourself to know if a keyword is trademarked or not, you can find the data within Merch Informer.
The free alternative to Merch Informer trademark search is the United States Patent and Trademark office.
Merch Informer Pricing
Merch Informer has 2 subscriptions to choose from. The main difference is that with the Pro plan you get 100 vector images added monthly and access to the automated software tool that enables you to upload your designs to print-on-demand marketplaces. This Pro feature is a fantastic tool if you are a high-tier seller.
These are the rates and what each subscription includes. I do have a discount code below for 20% off if you wish to purchase.
| Newbie | Professional |
| --- | --- |
| $ 9.99 / month | $ 59.99 / month |
| Starter Features | Full Features |
| Trademark Tracking: 50 | Trademark Tracking: 8000 |
| Zero Setup Required | Zero Setup Required |
| 24/7 Customer Support | 24/7 Customer Support |
| Merch Academy | Merch Academy |
| Merch Designer | Merch Designer |
| | Product Tracking: 150 |
| | Keyword Tracking: 200 |
| | Bonus: Merch Graphics Vector Pack (100/month) |
| | Free Access To The Single Upload Interface Automation |
Data from Merch Informer
Merch Informer Pro Plan
Includes:
Single Upload Interface, which allows you to upload the Merch designs to multiple platforms such as Redbubble, TeeSpring, Spreadshirt, Zazzle, Printify, Printiful, and Gooten.
Get 100 new vectors (PNG & SVG format) every month, free for commercial use. Do read the vectors license agreement but I can assure you it is very flexible.
Note: The vectors alone (100 a month) compensate for the subscription unless you are a designer yourself. These vectors are hand-drawn and you need to pay an illustrator, at least, $5 per design if you had to order them.
Few Tips That Can Get You Quick Sales on Merch by Amazon
Target trends and holidays when you are in low tiers.
Target evergreen when you are in higher tiers.
Target niches with less than 200 competitors.
Experiment with other markets other than the US market. I know the US market is the biggest one but to get out of Tier 10 you can target other markets if the KW has fewer competitors.
Be creative and come up with your own phrase within the niche, targeting your market audience.
Price low until you get the initial sales and show up on page 1.
Your best keywords should go in the title,
Hope this helps.
Conclusion
If you want to turn your Merch by Amazon into a business or want to scale it up, then you may wish to give Merch Informer a try using the 3-day free trial.
It is possible to do all the niche research manually using the Amazon marketplace search bar. However, it is more convenient to have all the research tools in one place, including the trademark check.
There are two ways you can go about this Merch by Amazon T-shirt business:
If you are a beginner and still in the low Tiers, Tier 10 and Tier 25, you can start by doing the keyword research manually. Then consider subscribing to Merch Informer when you are in higher tiers and are making money selling T-shirts.
OR
2. If you are a total beginner in print-on-demand and Merch by Amazon business and you want to learn fast, you may consider getting this tool to get to know more about the business. The creator and tutor, Neil, has years of experience, and you may wish to learn the ropes from a successful seller instead of purchasing a course. This is because the tool suite includes helpful tutorials besides the benefits of the research tools.
Use the 3-day free trial to give Merch Informer a try.
If you decide to subscribe, make sure you use the discount code below to get 20% off.
| | | |
| --- | --- | --- |
| Merch Informer Coupon Code: | marisa20 | Get 20% off |
Disclosure: This post contains affiliate links. For more information please see my disclosure here