What is withKoji Link? Koji is a fun, interactive, and easy-to-use app where you can create your profile, add your social media links, promote and sell products to your followers, all using one link.
This method is also known as link-in-bio, similar to LinkTree and Beacons if you are familiar with them.
Do you want to know more about the Koji app? Read more below.
How Does Link-in-bio Work?
If you have an Instagram account, you know you can only add one link to your bio. This link normally takes you to your website or store, where people can read your content or shop for products you sell.
Now, what if you can have many ´CTOs – Call to action´ buttons linked to that one Koji link? Wouldn´t that be great! Perhaps you want to promote your Etsy shop, link to your affiliate website, and have people sign up to your email.
What if I tell you that you can also upload your digital products to apps on Koji and sell them directly, without redirecting customers to a website or an e-commerce shop.
Well, this is all possible with the Koji link. Koji is like a mini marketplace where clients can find your product (through your link in bio), purchase it, pay you, and download the digital product.
How To Create a Profile on Koji?
This step is easy.
To sign up or log in, first, you need to enter your phone number and verify it. You will have your account set up in no time.
You will receive a confirmation code on your phone. This is for security reasons.
Next, you will choose a username.
Now you are ready to go. Start building your profile and adding mini-apps.
With Koji, you can have a profile as diversified as you like.
You can fully customize your profile with video backgrounds, different layouts, interactive photos, bright colors, and beautiful fonts.
Link your social media buttons.
Browse the mini-apps.
Before we look into the mini-apps, here´s one important thing to know.
How Much Does Koji Cost?
Koji has no free and paid version like other links in bio. There are no upgrades.
Koji is 100% free to join and use. You can add as many mini-apps you may need from the Koji app store. The majority of the apps are free.
You will only pay when you sell something. Fees range from 5-15%.
So you may be wondering;
How Can you Monetize with Koji?
To make money, you need to link your products and services in one place. Then send the link to your followers or embed it to your YouTube Channel, TikTok account, Pinterest, Twitter, you name it.
The way to link your products is by joining mini-apps where you can post your call to action buttons.
Here are some of the awesome mini-apps you can find on the Koji App Store.
Tip Jar
Add a tip jar to receive money from fans who value your content. You can title this; If you find my content useful, please buy me a coffee!
AMA (Ask Me Anything)
This is a great way to interact with your followers, share your knowledge, and help others. When someone asks you a question related to your expertise, you reply by posting a video.
Affiliate Links
Promote your favorite affiliate links. This is cool as you can flash your offers on the profile page.
Collect Emails
Encourage potential clients to join your community by signing up using their email. You can view the email list on your profile.
Sell Downloadable Files
Select a digital product you want to sell. Post as an individual file or a zip file. Set your price or let the customer decide an amount to pay.
Customers will be able to purchase the product and you will receive payment into your Koji wallet.
Sell Ebooks and PDFs
Here you can sell your ebooks or e-courses.
NFT Web3 App
There´s also an NFT app where you can get people to bid on your NFT.
Have a look at some other mini-apps below. There are hundreds of them.



How To Use The App – Sell Downloadable Files
Let´s see how easy it is to use the Sell Downloadable Files App.
First, log onto your profile. Enter your phone number and the confirmation code.
Next, go to View App Store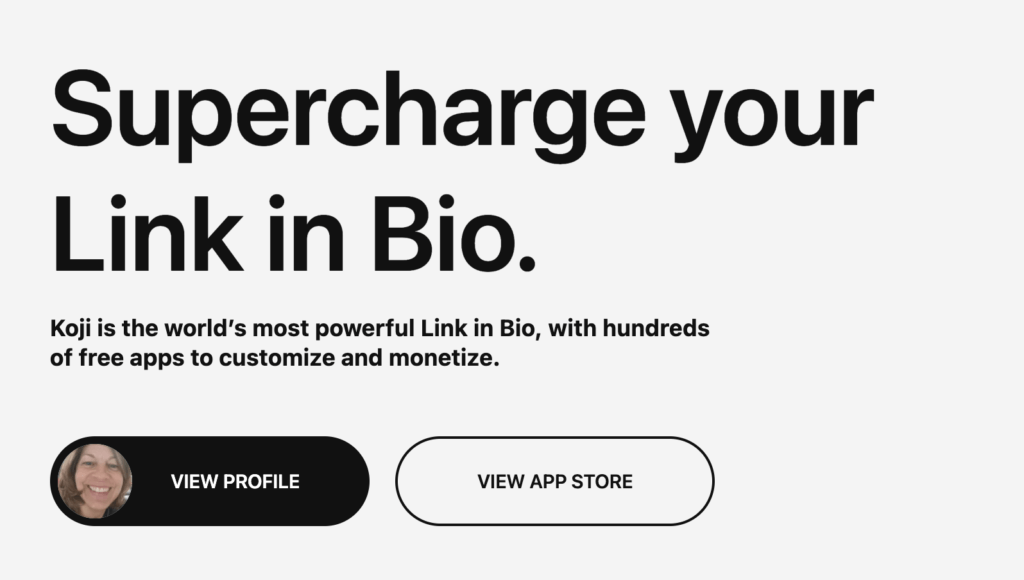 Scroll down until you find the App, Sell Downloadable Files. Click on view.
Check the Preview if you wish to see the end result. If you like what you see, ADD the app.
A window will pop up.
Fill out the form: upload a cover photo or a video, add a title and description, set a price, and upload a zip file with your download.
Hit next and your product is ready for sale.
The process is really easy.
How Do You Collect Money on Koji?
Koji has a wallet integrated where you receive the money you earn.
You can use the money in your Koji wallet to make purchases on Koji. If you have no funds yet, use your credit card.
WithKoji allows you to buy and sell products and services, make withdrawals, ask for refunds, etc.
You can withdraw funds from your Koji wallet using:
| Method of Payment | Fees | Sent To Your |
| --- | --- | --- |
| Stripe | No fees | Bank or debit card |
| Bitcoin Wallet | No fees | Bitcoin account |
| PayPal | No fees | PayPal account |
Who is withKoji for?
Influencers, marketers, digital product creators, musicians, NFTs owners. Basically, anyone who wants to monetize and market a product or service.
Conclusion
In this post, I write about the withKoji link in bio.
This is a powerful tool where you can link all your digital products, interact with your fans and followers, and sell online without having a website.
Link to your social media, e-commerce store, and collect emails. These are a few of the benefits of using Koji.
WithKoji is free to join, and you will only pay a percentage fee when you make a sale.
If you sell products or services online or are involved in any online business, this is the app you need to have.
It is fun and interactive. Check it out. It is free to join. Remember, use your phone number to join.