If you are creating no content and low-content books to publish on Amazon, then this Book Bolt Review is for you. In This Book Bolt Review, I will compare the free method to the paid method so you can decide if this is the right tool for you.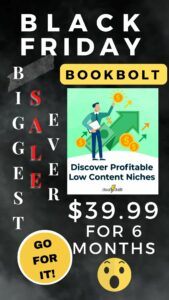 CLICK here FOR THE 2023 BLACK FRIDAY DEAL.
DON´T FORGET TO USE THE DISCOUNT CODE: MARISA20
BLACK FRIDAY OFFER:
Starts: MONDAY, Nov 20th, 2023
Ends: WEDNESDAY, Nov 29th, 2023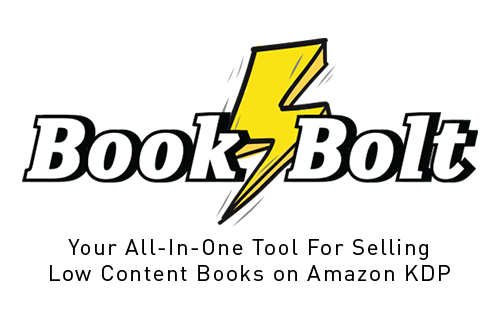 Let´s get it started.
What are Low Content Books?
These are books that are blank or have very little content that you can easily create and sell to the public. If you are new to Self-publishing, I suggest you read my introductory article on Make Money Self Publishing on Amazon. Here you will find more information about no-content and low-content books.
Disclosure: This post contains affiliate links. For more information please see my disclosure here
What is Book Bolt?
Book olt is software specifically for low-content book authors. This extensive tool helps you:
Do the research
Find good niches
Find great keywords
Spy on your competitor
Find categories
Design book interiors
Design book covers
Book Bolt is a browser-based tool, so it works fast or slows depending on your computer connection speed.
Is Book Bolt Free?
Book b
Bolt has some free tools that you can access without even subscribing. The free tools are:
Book Bolt Interior Creator
One essential document required to create a book is the manuscript or the interior. Book Bolt software provides you with more than 100+ free templates that you can use for free. These low-content books can be created in seconds using templates.
Book Bolt Category Finder
In the process of listing your book on Amazon, you need to select two categories so your book will be indexed under those two categories. Finding the right category related to your book is important so the customer can find your book and purchase it.
Book Bolt category finder will help you search the proper category simply by entering a keyword in the search bar. It will give you low, medium, and high competitive category suggestions.
Book Bolt Interior pdf Combiner
If you wish to create a book with various templates that you may have prepared and saved separately, then you have to put them together to create one interior.
Book Bolt has an interior generator that is free of charge, and you can use this tool without logging in or registering.
You simply have to upload your PDF documents to Book Bolt, arrange the documents in the order you wish to have them printed, and then export the documents as one file in PDF format.
Here is a quick tutorial by Neil from Book Bolt, explaining how to put together a unique KDP manuscript.
Though the above three tools are helpful, you still need more tools to get your book ready for publishing.
So you may ask, what is the alternative if I do not wish to subscribe to Book Bolt to access the rest of the tools?
Well, there is a solution. Here are some suggestions.
Book Bolt Free Alternative
Design Tools to Create the Interior and Cover
Canva is an awesome and user-friendly design tool that you can use to create the book interior and the book cover.
On Canva, you can find templates related to your niche that you can use as interiors for free. You can easily change the colors and replace the words and phrases to make your book interior unique.
Here´s how you can create a book cover for free on Canva.
Research Tools
AMZ suggestion expander is a Google Chrome extension that extends the number of searches in the Amazon search bar. These are the phrases that customers write to look for a product.
This tool helps you find what niches and keywords are presently in demand.
Why Use Book Bolt Then?
You may now be wondering – If I can create the book interior and the book cover for free, and find the keywords for free, why should I get Book Bolt?
I will explain below.
Benefits of Book Bolt
The beauty of Book Bolt software is that you can access all the required tools or modules in one place. This is very convenient and in the long run, it saves you time.
Creating Your Book Cover
Whilst Canva is a great tool and has lots of cool design features – many of which you can use for free, Book Bolt is much easier to use when it comes to creating covers.
In Book Bolt, you access the cover creator, select the book size from a drop-down list, enter the number of pages in the book, and the system will create it for you.
There is no need to do calculations for bleed margins (when the text or images/illustrations extend to the end of a page), and the cover design has the ruled margin template integrated, so you don´t have to upload it as you do in Canva.
UPDATED AUG 2022
BookBolt launched BookBolt Studio in August 2022, and the software got even better. Here are some updates on what you can do:
To access the new feature, log onto BookBolt Designer, then click on the red button that says ´Try The BookBolt Studio´. So now you are:
Able to view your whole project (cover and interior) on one page. Awesome
Access the variety of interior pages from one place. Great
Easy drag-and-drop format
Autosaves your work (recommended to save now and again)
Show all gridlines and margin guidelines at the toggle of a button. Helpful to center your cover design.
New features such as adding a stroke or shadow to text, curved text, etc.
Create masked text
Upload your own fonts, or use the free Google fonts
Filter and effect features to edit images
Turn images with a dark outline into outline images for your coloring book pages, even a PNG image
Customize the interior pages, remove/add lines, change color, adjust size and margins
TIPS
Upload fonts in .ttf format
I encourage you to sign up for FREE and check out BookBolt Studio. The tool is awesome and has some amazing features. You can do so much more with BookBolt with the new updates.
👉Watch me create a patterned design on BookBolt using various images.
Niche Research
This is perhaps the most valuable tool within the Book Bolt software. In the self-publishing business, you constantly need to find new competitive niches. The more books you create in different niches, the more chances of selling.
Book Bolt has a tool called Cloud – that gives you data on the most popular books and their best-seller rank, as well as the most sought-after keywords.
Here you can check the price history of the books in demand, and you can save the books that you like for later reference when you want to create your own books.
The Cloud module saves you long hours of research on the Amazon search bar.
Keyword Research
Learn how to look for keywords directly from the creators of Bookbolt. Watch the video below.
KDP Spy
An alternate way of finding niches within Book Bolt is by adding the KDP Spy Chrome extension. This is included in your Book Bolt subscription.
This tool gives you a list of keywords searched by customers and also a list of the most popular books on Amazon.
It is very convenient to use as you can access it directly on the Amazon search bar.
Book Mass Cover Converter
Let´s say you have many designs from other print-on-demand products you sell. You can convert those to covers for books.
When using Book Mass Cover Converter – you upload the images you want to convert as book covers, select the book size, and no. of pages, and choose a background color – and at the click of a button, you will convert all images into book covers, ready to upload on the Amazon KDP platform.
Book Bolt Lister
Book Bolt Lister is a Chrome extension plugin. Once installed, this helps increase the speed at which you list your books on Amazon.
Let´s say you need to list 10 or more books in a particular niche (say Fitness).
By using this tool, you can create a profile where you enter all your book metadata and backend information such as title, subtitle, keywords, author name, description, etc.
Next, you allocate a Hotkey (ex. Shift A) to the profile you created. Once inside the KDP publishing platform, you will hit the Shift A key, and the data stored in the profile will be automatically uploaded.
This saves you time because you don´t have to enter the data for every book you upload in the same niche. You only have to change the title and subtitle.
Webinars
Two in-depth tutorials with great tips for the self-publishing business are also included.
Book Scout
You can fetch any other author´s KDP book and search for the keywords that it is ranking for, using the Book Scout tool.
And, you will be spying on your competitor's best keywords.
Seller
In the Seller tool – you enter any seller´s pen name, and the system will detail the books they have published under that author's name.
You will also get a list of related keywords and the search volume.
Technical Support
This does not normally happen, but should you have any issues with the system, you can open a support ticket, and the technical team will get back to you within the next 24 hours.
Puzzle Wizz included in Book Bolt Pro Version
Book Bolt Pro version includes PuzzleWizz – a great tool for creating various types of puzzles. Selling Puzzles and activity books on Amazon KDP and other selling platforms can make you some good money, so having a comprehensive platform like PuzzleWizz is beneficial.
The type of puzzles you can create with PuzzleWizz are:
Crossword
Sudoku
Wordsearch
Cryptogram
Word Scramble
Maze
Kakuro
Dot to Dot
In addition, there are two other features available within PuzzleWizz. You can:
Change a colored image to grayscale, and
Change an image to an outline and use it for coloring pages for coloring books.
Great News:3 more puzzles were added today 20 July 2021 to the Book Bolt Pro Version. These are:
Nurikabe
Hangman
Mine finder
All the above puzzles are easy to create but you also have some quick tutorials included on how to produce every puzzle.
Create Coloring Pages
If you do low-content books, you must know that coloring books are very popular and sell extremely well on Amazon.
In the previous section, I mentioned that one of the features of PuzzleWizz is Outline. That is, import an image and change it into an outline for coloring pages. You can export the pdf with the outlined image in 3 different sizes ( 5×8, 6×9 & 8.5×11).
Here is an example: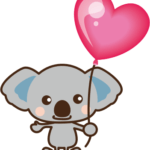 Cons of Book Bolt
None. It does come at a cost but it is worth the money, especially if you are looking for a tool to create professional books faster.
Pricing
| Standard Version | Pro Version |
| --- | --- |
| Monthly: 9.99 USD | Monthly: 19.99 USD |
| Yearly: 89.99 USD | Yearly 199.99 USD |
| Includes: | Includes: |
| 3-day free trial | 3-day free trial |
| Keyword / Product Research | Keyword / Product Research |
| Cover / Interior Designer | Cover / Interior Designer |
| Amazon Search Volume | Amazon Search Volume |
| KDP Spy | KDP Spy |
| Customer Support 24/7 | Customer Support 24/7 |
| | Puzzle Creation Software |
Use the code: marisa20 to get 20% off when purchasing
| | | |
| --- | --- | --- |
| Book Bolt Discount Code: | marisa20 | Get 20% off |
Use the above code to get your discount
Conclusion
In this article, I describe the free tools you can use to create your blank and low-content books, review the Book Bolt software paid version, and list the benefits.
If you have the time and patience, you can do the whole self-publishing process for free. This refers to doing research, creating your interior, and covers, and uploading them to the Amazon self-publishing platform.
However, if you are like me and value the benefits of having software that can save you time, then I recommend you try Book Bolt.
My Verdict: I find Book Bolt helpful and I use it often.
Besides, you can register for free and browse through the available tools I described above. If you like the software you can stick to it, just like I did. If you don´t, you can cancel your subscription within the 3-day trial period.
I love the tools that allow you a free trial. There is no better way than testing a product yourself.
TIP: If you sign up for Bookbolt I encourage you to watch and participate in the live Weekly Calls tutorials by Neil (or watch the replay). You can join and ask live questions. Seriously, you will learn so much from these webinars you don´t need to take any KDP course.
If you like to give Book Bolt a go, then click the link below. Book Bolt has given me a discount code that you can use if you decide to subscribe. See note below.
| | | |
| --- | --- | --- |
| Book Bolt Discount Code: | marisa20 | Get 20% off |
Use the above code to get your discount
Create Book Covers Fast
9.5/10
Book Scout Competitor Spy
9.5/10
Pros
User Friendly Software
Best Niche Research Tool
In-depth Self-Publishing Tutorials