If you're looking for a free copywriting tool, you don't have to look any further. The free version of Copy ai writer is just as good as its paid version and allows you to write up to 2000 words per month.
It does come with a few limitations. In this article, you will learn about the main features of Copy ai, the pros and cons of the software, as well as more information about the Copy ai writer free version.
If this is something that interests you, keep reading.
What is Copy ai
Copy AI is a unique text generation platform that uses advanced AI techniques to automatically generate natural, engaging, and personalized content.
Copy ai helps you generate content for your website, social media, and emails. It is a great tool for small businesses, startups, and agencies that want to save time on writing content.
What are the Main Features of Copy ai
These are the main features of copy ai:
Content suggestions (article titles)
Content generation based on word count or topic(s) of your choice
Topic/keyword suggestion engine (based on Google's search engine analysis)
Who is Copy ai For
Copy ai is for:
Bloggers who want to grow their blog or business
People who want to make money online and save time by automating the process
Entrepreneurs who don't have time in their schedule to write lengthy articles, but still need content on a regular basis
Copy ai Free Plan – Is the Free Version Any Good
The free plan of the Copy ai writer is more than good enough for most people. It will allow you to write articles and social media content that is worthy of being published on the internet.
The free version also allows you to pick from a range of topics and templates, so it's easy to get started writing.
With the FREE version, you get access to:
90+ copywriting tools (yes, you can create content using free tools)
Unlimited projects
7-day free trial of the pro plan
up to 2000 free words per month. This is more than enough for most small businesses that just need an occasional document edited or written, or for social media copywriting (Instagram captions)
you can stay on the free plan, renewing the 2000 free words each month
If you want to be able to customize your articles and the templates in which they are written, then the paid version of this software may be right for you. You can customize everything from the title and description of your article all the way down to how many words are included in each paragraph.
So, how much does Copy ai cost
Copy ai Pricing
To start with, you can try the free plan and the trial plan of Copy ai.
The trial plan gives you access to all of the features of the free plan, but with unlimited documents and words. This is a great way to try out Copy ai and see if you like it. Once your trial ends, you can choose to continue your subscription or cancel at any time.
Pro Plan Cost
The Pro plan costs $49 per month and if you opt for the yearly plan it will cost you $36 per month.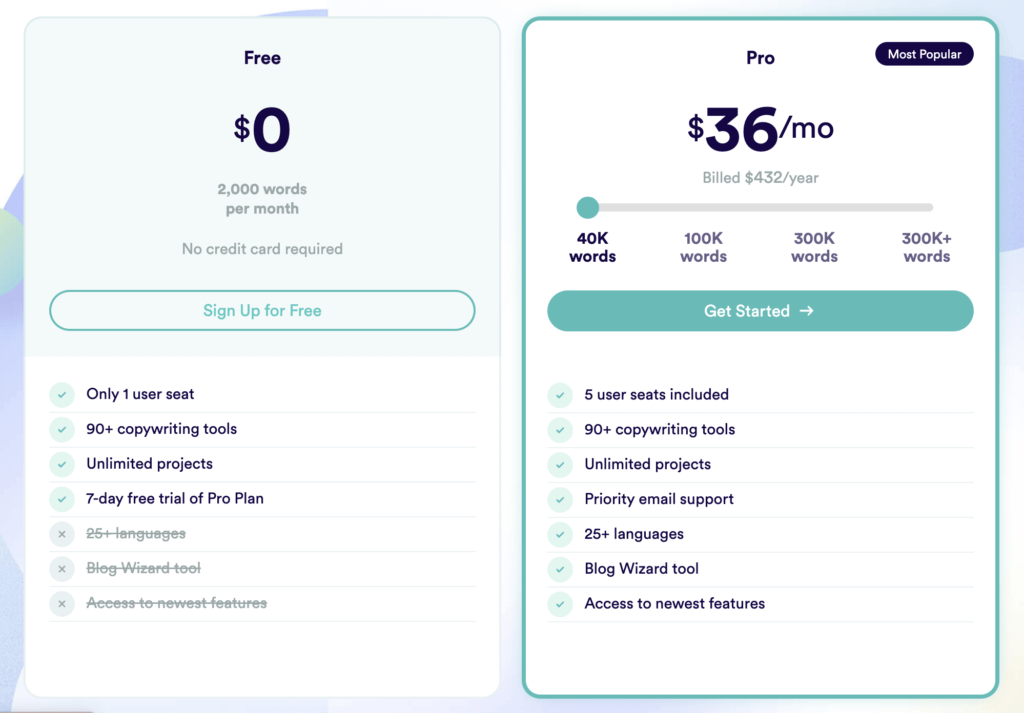 There's no long-term commitment so you can cancel at any time.
And here are some pros and cons
Copy ai Pros and Cons
Pros
Ease of Use – you just paste your text and let the software do its thing.
Affordable – it's an affordable software with lots of features. You can create fully SEO-optimized content within minutes.
Free Plan Option – no need for a credit card.
Free Pro Version Trial – test out the platform on the free plan, and decide if this is the right software for you.
Speed – Copy ai can create content at lightning speed. You don't have to spend hours or days researching and writing content—you can enter a few prompts and it will generate the content for you.
Customer Support – it has an excellent customer support team who will answer any questions you have about its software. They also offer free training videos so you can learn how to use the tool properly and effectively.
No Plagiarism – it writes all copy from scratch. You should not worry about duplicate content (it is always recommended to tweak the content and run plagiarism checks every now and again)
25+ Languages – can create copywriting in more than 25 languages (Pro plan)
Cons
Accuracy – Although copy AI tools are great at predicting what will resonate with customers, they still aren't perfect— -it doesn't always get the meaning of what you want to write exactly right, so sometimes you may need to fix some things after copy ai writes them for you.
Especially when your content includes facts and stats generated by AI, it is wise to do your research. Make sure you proofread your work before publishing.
Copy ai Makes Blogging Easier For You
Copy ai is an AI tool that helps you write blog posts faster and with more accuracy.
Here are some of the ways Copy ai will make your life easier:
You'll be able to write more effective blog posts because Copy AI provides valuable insights into how people are responding to what you write.
The machine learning algorithms analyze thousands of other blogs and articles written by experts in your field, so it knows how to target your content for maximum engagement.
This means you're spending less time trying to guess which words or phrases will resonate with readers and more time creating great content!
You'll be able to save even more time by letting our machine-learning algorithm do all the work for you! When you start typing into the editor box, Copy Ai´s artificial intelligence engine immediately begins suggesting words based on what it's learned from analyzing millions of websites over several years.
We've found that using this feature not only saves writers' precious time but also helps them avoid common pitfalls like typos or other errors–which means fewer headaches later on!
Is Copy ai Any Good?
Here´s an example of the Copy ai output.
I have entered the prompts on the left (marked with the red arrow), and the screenshot on the right is the AI-generated copy.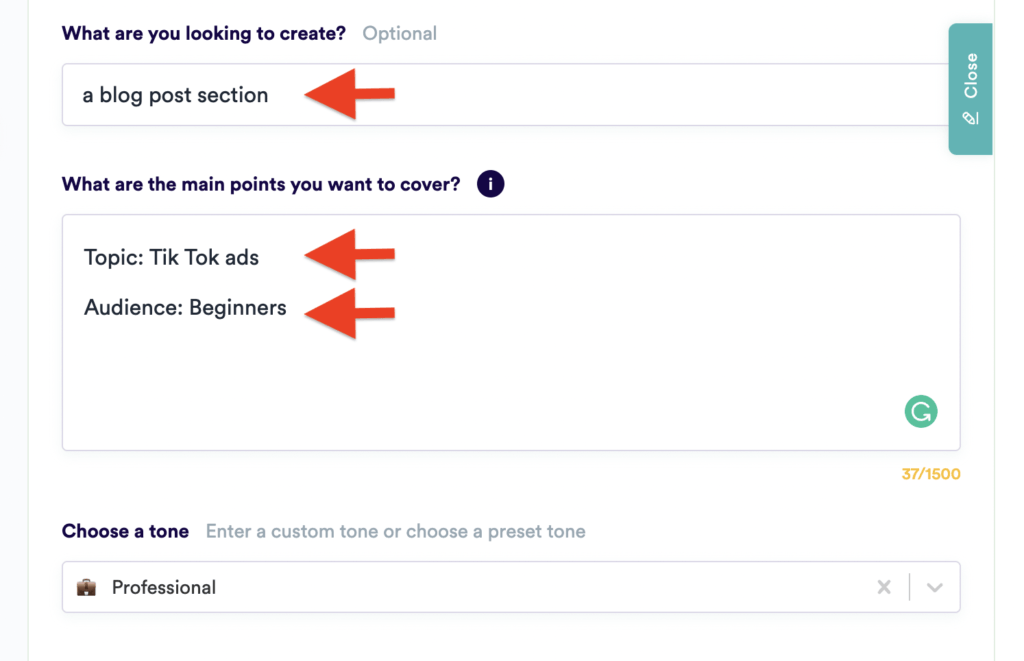 Conclusion
Copy ai is an awesome tool that can help bloggers improve their content, make more money and save time. I highly recommend this tool to anyone who wants to take their blog to the next level!
It's important to take a step back and ask yourself if you need help before buying a Copy AI tool.
Copy AI is an amazing tool for businesses to automate and speed up their content creation process. It allows you to create and publish engaging, high-quality content without having to spend hours or days on research or writing.
Whether you're new to copywriting or an old pro, this tool will help you create content in minutes without having to worry about writing it yourself or hiring someone who can.
So, what do you think? Are you willing to try out Copy ai for FREE? This is a great tool to get started with and see if you like it.
Go ahead and test it out. No need to sign up, enter your email and access the FREE plan.
Use the link below to Get 40% OFF on your first purchase if you wish to upgrade to a paid monthly or yearly plan within the first 4 days after creating the FREE plan.
Have fun creating Copy.