No matter how great your product or service may be, unless you have the traffic you won´t be able to make money. In this Herculist Plus Review, I will tell you how you can use Herculist Plus to bring more traffic to your site.

More traffic = More sales
This is the first time I´m using solo ads, so I will also share my experience.
For those of you who are new to solo ads.
A free solo ad is an advertisement that is sent out to a large group of people without any cost to the advertiser.
What is Herculist Plus?
Herculist Plus is a powerful platform that offers many advertising tools you can choose from that help you promote your product or brand, and grow your business at an affordable price.
At present, Herculist Plus has almost 300, 000 members.
They offer both free and paid ads and can also embed your opt-in page.
On the FREE plan, you are allowed to send out a free solo plain text ad mailer to 1000 people daily. Pretty good eh?
The traffic is 100% real. There are no bots or fake traffic. The members are like-minded entrepreneurs promoting their businesses to each other.
Please be aware that once you´re in, you will also receive offers in your email.
You do have the option to turn on Vacation Mode from the Settings area if you do not wish to receive emails for a period of time.
For this reason, it is recommended to use a separate email to sign up for Herculist so your everyday inbox doesn´t get flooded with mail.
With Herculust, you may promote any niche except illegal and porn material, which is not allowed.
Although you come across different types of ads, I believe that making money online is the most common and most effective ad you can have.
Is Herculist Plus Legit?
First off, it is good to know that Herculist Plus is legit. I´ve discovered the platform recently, and I have used both the FREE and Paid ads.
Herculist Plus Support
I struggle with tech stuff, and support was really helpful in explaining how the platform works. I was able to contact support via chat and email.
I recommend you watch the Herculist tutorial first. The link to the tutorial appears next to your name when you are logged in.
What to expect from the Herculist Plus Platform
If it´s your first time logging in to the member's area you may be a little overwhelmed.
Every type of ad that is offered on Herculist Plus is displayed on the home page.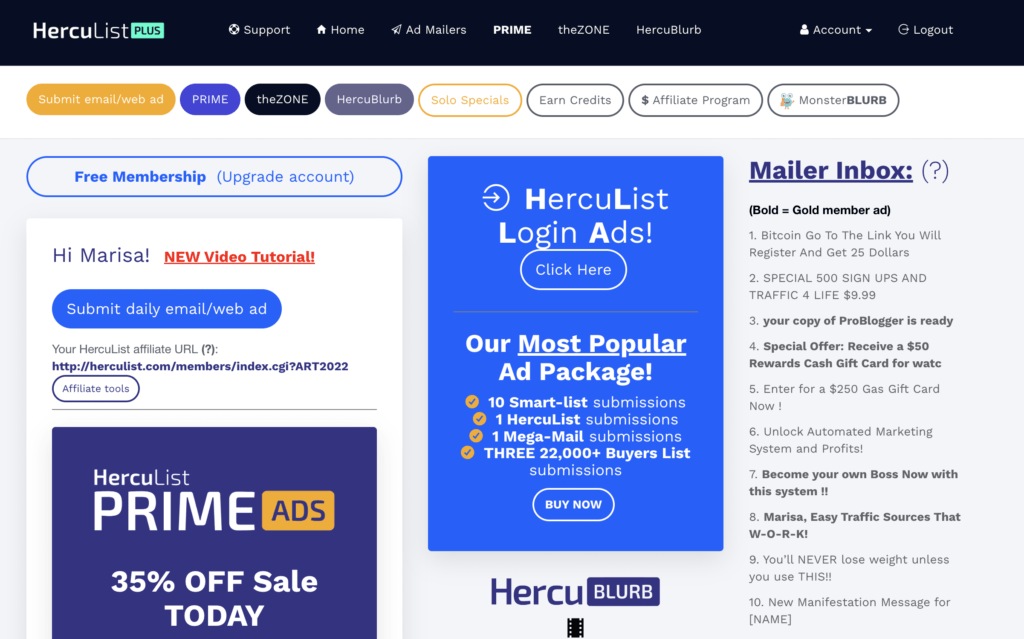 Be prepared. There´s a lot going on when you log in, so it takes a bit to go through it all. That is why I recommend you watch the tutorial first.
Despite being busy, it is quite a clean and organized site.
Still, you need to be patient.
The page takes time to load.
You will see many ads at every click you make. This is unavoidable.
Each time you need to click the X symbol to close the popping ad, then continue to the next page.
There is a drop-down menu under Account that will take you directly to the area you want to visit.
How To Use Herculist Plus
Once you log in, click on Members Area, then Herculist Plus on the left column
The first thing you need to do is submit your FREE daily mailer.
Test your URL before submitting it to make sure it does work.
You can access and resubmit the same ad over and over again, so you don´t need to create an ad every time.
If you wish to submit more ads in the day, you can either use your credit or purchase an ad.
You earn credits by reading text ads, web-based ads, or blurbs.
Next, use your free credit to submit HercuBlurbs
All the above can be done for free.
TheZONE
In this area, you are viewing other people´s ads to earn views to your site if you are a Gold or PRO member. You do not earn credits here. (1:1 ratio, view one and get one ad view in return)
FREE members also earn views (2:1 ratio, view 2 ads to get one ad view in return)
There´s also a wait count down as you can see below in the image (09). Less waiting time for PRO and GOLD members.

Paid Ads Available on Herculist Plus
Herculist Plus offers a wide range of paid ads. So far I have used the PrimeAds.  So I will describe this first.
PrimeAds works well because you do not have to do anything. You just have to send the URL you want to promote and they will do the work for you.
Have your site embedded into the Herculist site. People who are surfing the interface will be directed directly to your site when your ad is running. PrimeAds are displayed in rotation.
It is approved quickly, and it is seen by all the members logging into the site. Your ad is shown in prime areas of the Herculist site.
They send traffic directly to your website.
I opted for the 900 ads (which were on offer on the day) and I got about 10 sign-ups in a day.
On the free plan mailout, I get a sign-up every other day. I have to admit, I am not consistent in sending the free solo ad daily.
PrimeAds are spread throughout the page, and they go in rotation with other purchased PrimeAds.
I-Blast
This is the first ad the members see when they log in. This ad can be purchased by the hour.
As opposed to PrimeAds, I-Blast ads will stay on the home page for the number of hours you purchased.
Traffic Bomb: to get access to both email and traffic members. This is a combination of 6 different ads offered for one price.
HercuBlurbs are ad blurbs that stay on the screen
PowerBlurbs are ads that pop up on the right side of the page when members are navigating the site.
Payment for ads is made by credit card or bitcoin.
Herculist Affiliate Program
Herculist has an affiliate program for affiliate marketers that can earn you up to 50% commissions.
You will be provided with marketing tools that make it easy for you to promote them.
You can promote the Herculist affiliate links as your free daily mailer.
Membership Options on Herculist Plus
At the time of writing, Herculist has 3 subscriptions. Prices keep on changing, so I won´t mention any over here.
They are clearly shown on the home page of Herculist.
Free 
Gold (lifetime upgrade for a one-time fee)
Gold (monthly or yearly membership)
Pro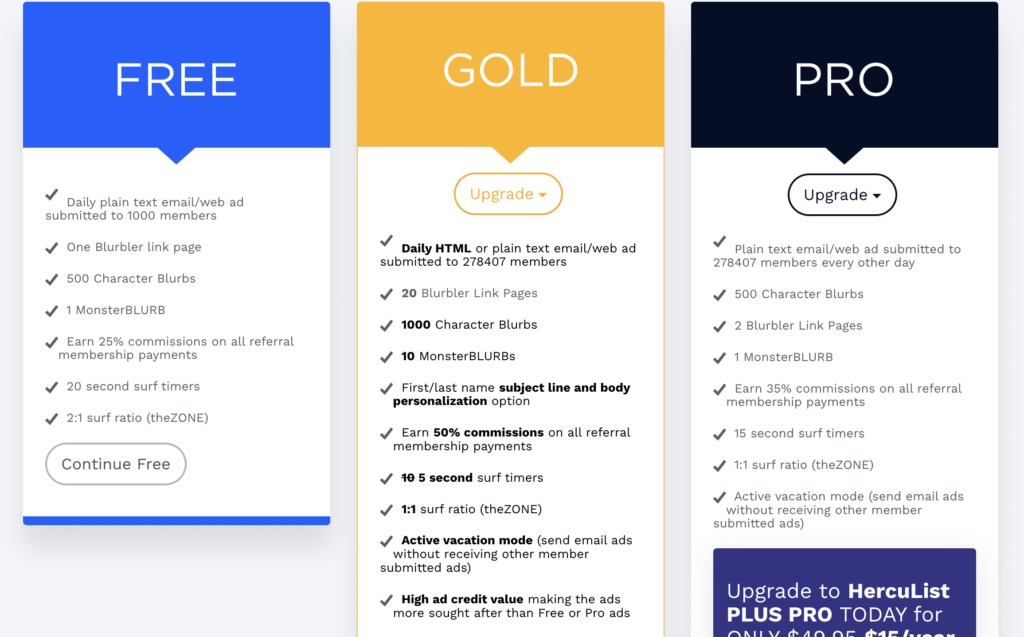 Conclusion
In this article, I review the Herculist Plus advertising platform, which also includes free solo ads for free members.
Once you get used to the platform it is easy to use.
Dedicate some time each day doing the following for FREE:
Send a text ad with your link to up to 1000 members per day.
Get some credits by viewing ads
Send a HercuBlurb if you have credit
Learn from other members and marketers by viewing their ads
The best marketing that works is for the make-money-online sector. However, I´ve seen other ads in the food, health, and beauty niches.
If you wish to give Herculist a try, sign up and try the FREE ads. See if it works for you. If you like it you can invest some money in paid ads, or continue using the free services.
Good luck!