Hello there! Many marketers often promote pricey courses and tools to beginners in affiliate marketing. However, in reality, what do you need to become an affiliate marketer?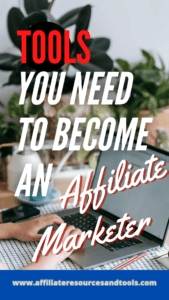 Don't worry, I'm here to help. In this article, you will find all the necessary information about the tools needed to build a successful affiliate marketing business. This should assist you in deciding which option is best for you.
Additionally, I will reveal which programs I'm personally a member of and provide reasons for my choices.
Let's begin!
What is Affiliate Marketing?
Affiliate marketing is a unique form of marketing where a business rewards affiliate marketers (that's you!) with a commission for driving traffic and bringing in visitors or customers through their individual marketing initiatives.
As an affiliate marketer, you're rewarded based on the number of conversions you can generate. These conversions can be anything from clicks and sales to gaining subscribers, all depending on the nature of the product or service. Exciting, isn't it?
How Does Affiliate Marketing Work?
Initially, your task is to identify a product you'd like to endorse. Generally, you'd choose a niche you're passionate about, intrigued by, or ready to delve into, in order to articulate its details to others effectively.
Afterward, it's time to start generating content related to this product or service. You might create the following kinds of content:
Educational
Informational
 Promotional
Your next task is to identify a traffic generation method to draw clients to your content and affiliate links. This could be achieved through social media or by optimizing your blog to rank on the first page of search engines, such as Google, amongst others.
So, ready to jump in?
What Resources and Tools Do You Need?
These are tools that are essential and you cannot manage without them. These are
Social media accounts AND /OR A website (domain and hosting)
Sales funnel software with Auto Responder OR An autoresponder
Where are you currently in your affiliate marketing journey?
I can identify three distinct scenarios:
Absolute Beginner – If you're just starting out and know little about affiliate marketing, the quickest way to learn and achieve success might be to learn from someone who's already succeeded in this domain. Further in this article, I'll share my recommendation and explain why.
Somewhat Experienced – If you've already consumed a plethora of YouTube videos and numerous blog posts on affiliate marketing, then you're likely equipped to handle most of the tasks on your own. Consider joining an affiliate marketing-focused Facebook group where you can ask any burning questions you may have.
Beginner but Non-Techy – If you're new to this field but aren't particularly technically savvy, you'd greatly benefit from consistent support and guidance. It would be wise to join a community where you can ask questions, have access to courses and workshops, learn, and build a website the right way — with appropriate content that ranks well on search engines.
Later in this article, I'll also provide my personal recommendation for your situation.
Stay tuned!
Wondering where to initiate your Affiliate Marketing journey?
There isn't a fixed roadmap to becoming an affiliate marketer, but typically, people kick off by identifying a niche market and then constructing a website or blog centered around it. You can then begin endorsing products or services that resonate with your audience's interests.
As your audience and followers grow, you can begin to monetize your site utilizing affiliate marketing programs.
In terms of methods, there are two that have been proven to bring results. Let's label them as the "Slow Method" and the "Fast Method," which I'll delve into shortly. Stay connected!
The Gradual and Long-Term Approach (slow method)
Consider launching a blog, filling it with valuable content, optimizing it for SEO (Search Engine Optimization), and then incorporating affiliate links for the products you're keen on promoting.
A Quicker Path to Building an Affiliate Marketing Business (fast method)
Inaugurate a YouTube channel or establish a TikTok account centered on a niche you're interested in. Then, guide potential customers to a lead (often referred to as a bridge page) where your affiliate link directed to the sales page of your desired affiliate product is incorporated.
How do these strategies differ?
The Gradual Approach: If you own a website, it can host numerous articles, each embedded with links to various affiliate products. Once these articles rank high, they begin generating income, covering numerous products.
The Quick Approach: Certainly, you might sell a product or two swiftly, but steady sales aren't guaranteed unless one of your videos becomes a hit. However, with abundant content, this approach can also prove fruitful. Remember, you don't necessarily have to create the videos yourself or even appear in them. Various methods exist for doing this.
Now, let's shift our focus to essential tools in affiliate marketing.
Necessary Tools for Affiliate Marketing
Once you've chosen the route you'll take in affiliate marketing, you'll require certain tools to get the job done.
For The Slow Method, here's what you would need:
A Domain
Hosting service, which you can sign up for through platforms like Bluehost or Siteground. Sometimes they offer a domain for free.
An Autoresponder. However, this isn't needed right at the beginning. Aim to have at least 30 articles on your site before delving into email marketing.
A sales funnel. You'll need this only if you don't plan on creating your own landing (or lead) pages.
On the flip side, for The Fast Method, you'll require:
A TikTok or YouTube account, both of which are free to set up.
A Sales Funnel to create the lead page. This will then connect to the sales offer.
An autoresponder to gather emails of potential followers so you can send them email campaigns in the future.
Affiliate Programs I Can Personally Endorse
I'm a member of the following two programs for various reasons.
SLVRSPOON. I recommend this course because
it is a spoon-fed course by an experienced marketer.
It is an affordable one-time payment.
You will have all the information you need from A-Z on the whole process to start in affiliate marketing.
Plus you have a small community where you can ask questions.
The good thing about SLVRSPOON is that you can go through the first few tutorials for FREE, and see for yourself. 
SLVRSPOON: Can highly recommend this course owing to:
It's a comprehensively designed, spoon-fed approach by an experienced marketer.
The course is fairly priced and involves just a one-time payment.
It provides all the necessary information from A to Z needed to begin your journey in affiliate marketing.
A petite community offering a space for addressing queries comes as a bonus.
What's impressive about SLVRSPOON is that you can access their initial tutorials for FREE and witness the value for yourself.
WEALTHY AFFILIATE. I recommend becoming a member here if you are a beginner who needs assistance with technical stuff. At Wealthy Affiliate, you can
Build your own website in a short time.
Have the back-up of a large community of like-minded entrepreneurs, accessible 24hrs, 365 days. It is a worldwide community so there´s always somebody who can answer your questions, and you can work on your blog at a time convenient to you.
Best of all you have access to an efficient and prompt technical team to whom you can send your queries when they arise. That is exactly what I do. I don´t waste time trying to understand how to fix something on my site. I send it to them and they fix it for me.
Access to live webinars hosted by an excellent coach, who knows how to explain marketing matters in a simple way so you can understand.
The possibility to join for free. You can stay a free member for as long as you like, but you will only have access to the PRO services during the first week.
So basically you can join, see what it´s like, then decide if this is what you are looking for or not.
WEALTHY AFFILIATE: I would suggest joining this platform, particularly if you're a novice seeking technical support. Being a part of Wealthy Affiliate allows you to:
Establish your own website in a short span.
Access a large network of like-minded entrepreneurs, available 24/7, all year round. Considering it's a global community, you'll always find someone responsive to your questions, allowing you to work on your blog during your convenient hours.
Utilize the services of a prompt and effective technical team for resolving queries. As for me, instead of wasting time comprehending how to resolve a site issue, I simply forward it to their team for a quick fix.
Attend live webinars presented by an excellent coach who simplifies complex marketing concepts, making them easily comprehensible.
Possibility to join for free which means you can remain a free member indefinitely, however, PRO services are only available for the first week. Essentially, you can join, explore what it offers, and then decide whether it aligns with your interests or not.
Adherence to Both Programs: The Reasoning
Here's why I find value in being a part of both these programs:
WEALTHY AFFILIATE becomes indispensable to me due to the following factors:
Hosting and maintaining my sites on Wealthy Affiliate brings great value.
An indispensable part of the platform is the technical support service that it provides. If left to my own devices to resolve site issues, the process of sourcing information online (via Google or YouTube) and understanding it is extremely time-consuming, especially considering my struggle with technical aspects.
Besides, engaging a computer engineer would likely cost me more than the yearly membership fee of Wealthy Affiliate. Hence, for me, this platform is highly cost-effective.
SLVRSPOON on the other hand, piqued my interest initially out of just curiosity.
After watching a tutorial by its creator who seemed genuine, I decided to make the leap and purchase the program. Eventually, I became fond of the program and find myself content to be a member of its small, yet exponentially growing community.
And that's the rationale behind my membership in both these affiliate programs.
Wrapping Up
Through this piece, I've strived to concisely break down the concept of affiliate marketing, outline its prerequisites, and guide you on where to begin.
I sincerely hope that this article has proven useful and that I've been able to articulate my thoughts cogently. Though the concept seems clear in my head, translating it to written words can be challenging on occasion.
Note that it's typical to find affiliate marketing a complex concept initially. This is until familiarity dawns on the process and the software being used. At that point, it becomes a matter of repetition.
If there are any queries or concerns, feel free to pose them. I'd recommend taking a look at the programs I endorse, namely SLVRSPOON and WEALTHY AFFILIATE, to gauge their suitability for you.
Here's wishing you the highest degree of success in your endeavors. Please feel at ease to share this information with friends or relatives who might be considering starting an online business.