I come across many marketers promoting expensive courses and tools to newbies in the affiliate marketing business, but in reality, what do you need to become an affiliate marketer?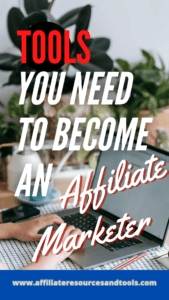 In this article, you will find information about the tools that are required to build an affiliate marketing business, and hopefully, you can decide what works best for you.
I will also reveal which programs I´m a member of and give reasons for my choice.
To begin with:
What is Affiliate Marketing?
Affiliate marketing is a type of marketing in which a business pays a commission to affiliate marketers (YOU), for generating traffic and for each visitor or customer brought by the affiliate's own marketing efforts.
Affiliate marketers are paid based on the number of conversions they generate, such as clicks, sales, or subscribers, depending on the product or service.
How Does Affiliate Marketing Work?
First, you have to find a product to promote. Usually, you select a niche about something you like, have an interest in, or are willing to learn about to be able to explain it in detail to others.
Then you start creating content around this product or service. The content can be
Educational
Informational
Promotional
Find a method of traffic to attract clients to your content and links. This can be via social media, ranking your blog on the first page of Google, and other search engines.
What Resources and Tools Do You Need?
These are tools that are essential and you cannot manage without them. These are
Social media accounts AND /OR A website (domain and hosting)
Sales funnel software with Auto Responder OR An autoresponder
At What Stage Are You In Becoming An Affiliate Marketer?
I can see 3 different situations:
If you are a total beginner and you know very little about affiliate marketing, perhaps the fastest way to learn and succeed is by following another person who is ahead of you and has already succeeded. Further along, I will give you my recommendation and explain why.
Somehow Knowledgeable. If you have already watched a ton of YouTube videos and read many blog posts about affiliate marketing, then you probably can manage everything on your own. Join one of the Facebook groups and ask questions.
Lastly, if you are a beginner and non-techy, then you need support and assistance throughout. You´d better join a community where you can ask questions, have access to courses and workshops, learn, and build a website the proper way with the right content that will rank on search engines.
I will also give you my recommendation further on in this article.
Where Do You Start with Affiliate Marketing?
There is no set path to becoming an affiliate marketer, but most people start by finding a niche market and then building a website or blog around that topic. From there, you can start promoting products or services that you believe will be of interest to your audience.
As you build up your audience and followers, you can start to monetize your site through affiliate marketing programs.
There are two proven methods that work. I´m going to call them the slow method and the fast method.
The Slow and Long-term Strategy
Create a blog, add valuable content, optimize with SEO (search engine optimization), then add affiliate links to the products you want to promote.
A Faster Way to Build an Affiliate Marketing Business
Start a YouTube channel or open a TikTok account around one niche of your interest. Then direct potential customers to a lead (bridge page) where you add your affiliate link that goes to the Sales page of the affiliate product you want to promote.
What´s the difference between the two strategies mentioned above
The slow method: If you have a website you can have many articles written on it, then have links to many affiliate products, and once the articles rank you will start making money on several products.
The fast method: You may sell a product or two quickly but you won´t necessarily have consistent sales unless one of your videos goes viral. But with enough content, this method can also work. And you don´t need to create the videos yourself or show your face. There are different methods to do this.
Now let´s have a look at
The Essential Tools
Once you decide upon your affiliate marketing route, you need tools to work with.
The SLOW METHOD – you need
A domain
Hosting which you can get on Bluehost or Siteground (sometimes these offer a domain for free)
An autoresponder (not right away). You need to have at least 30 articles on your site to start with email marketing.
A sales funnel (only if you don´t want to create your own landing (lead pages)
The FAST METHOD – you need
A TikTok or YouTube account which is free to sign up
A sales funnel to create the lead page that will link to the Sales offer
An autoresponder to collect emails of potential followers to whom you can send email campaigns later on.
The Two Affiliate Programs I Can Recommend
I´m a member of these two for different reasons.
SLVRSPOON. I recommend this course because
it is a spoon-fed course by an experienced marketer.
It is an affordable one-time payment.
You will have all the information you need from A-Z on the whole process to start in affiliate marketing.
Plus you have a small community where you can ask questions.
The good thing about SLVRSPOON is that you can go through the first few tutorials for FREE, and see for yourself.
WEALTHY AFFILIATE. I recommend becoming a member here if you are a beginner who needs assistance with technical stuff. At Wealthy Affiliate, you can
Build your own website in a short time.
Have the back-up of a large community of like-minded entrepreneurs, accessible 24hrs, 365 days. It is a worldwide community so there´s always somebody who can answer your questions, and you can work on your blog at a time convenient to you.
Best of all you have access to an efficient and prompt technical team to whom you can send your queries when they arise. That is exactly what I do. I don´t waste time trying to understand how to fix something on my site. I send it to them and they fix it for me.
Access to live webinars hosted by an excellent coach, who knows how to explain marketing matters in a simple way so you can understand.
The possibility to join for free. You can stay a free member for as long as you like, but you will only have access to the PRO services during the first week.
So basically you can join, see what it´s like, then decide if this is what you are looking for or not.
And as promised, here are the reasons why I´m a member of both programs.
WEALTHY AFFILIATE is a must for me because I have my sites and hosting at WA. Also, I value the tech support service so much.
I know that if I have to fix site issues when they arise it would either take me ages to figure things out by looking for information online (Google or YouTube) and I would still not understand most of it (I´m that bad).
And if I have to pay a computer engineer, it would cost me more than the yearly membership. This is good value for money for me.
SLVRSPOON I actually purchased the program out of curiosity as I watched a tutorial by the creator and he seemed legit. I ended up liking the program, and I´m happy to be part of the small community that is growing daily.
So there you have it.
Conclusion
In this article, I tried to explain what affiliate marketing is about in a nutshell, what you need to become an affiliate marketer, and where to start.
I hope this was helpful and that I have explained myself well. I have it very clear in my mind but perhaps not so easy to put it in writing.
It is normal that affiliate marketing sounds complicated at first. This happens until you learn the process, and get used to the software you use.
Then it is the same thing repeated over and over again.
If you have any questions do not hesitate to ask. Have a look at the programs I recommend, SLVRSPOON or WEALTHY AFFILIATE, and see if they are a good fit for you.
Meanwhile, I truly wish you the best of SUCCESS.
Feel free to share this with friends or family who wish to start an online business.