One of the tools digital marketers and online entrepreneurs invest in is a computer or laptop. Having fast and efficient equipment with the required software is the key to working smarter not harder. So, is the beautiful MacBook Pro worth it?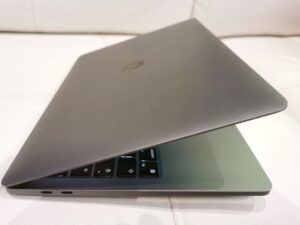 A powerful and sophisticated laptop or computer, along with an internet connection, is all you require to start an online business or side hustle.
The reason why this year I invested in Apple MacBook Pro.
Disclosure: This post contains affiliate links. As an Amazon Associate, I earn from qualifying purchases. For more information please see my disclosure here
In this article, I will review the 13-inch MacBook Pro with an M1 processor.
| | |
| --- | --- |
| Model | MacBook Pro (13-inch, M1, 2020) |
| Memory | 8GB RAM configurable to 16GB |
| Processor | Apple M1 with 8-core CPU and 8-core GPU |
| Keyboard | Apple Digital Touchbar (its the last MacBook Pro with a touch bar |
| Storage | 256GB SSD, Configurable to 512GB SSD, 1TB, or 2TB SSD |
| Colors | Silver, Space Gray |
| Battery and Power | Up to 15 hours wireless (my experience). Apple claims this to be 17 hours |
| Wireless | Wi-Fi |
| Charging and Audio | Two Thunderbolt / USB 4 ports & 3.5 mm headphone jack |
| Camera | 720p FaceTime HD camera |
| Weight | 1.4kg (3.0 pounds) |
| Operating System | macOS is the most advanced desktop operating system in the world. |
It took me a while to decide as this is my first Mac. But
It´s been a game-changer. 
It was easy to choose as there are enough Apple models but not too many to be overwhelmed. Once I was informed about the technical specification, I knew which model would be best for me. 
I wanted a good computer with good storage space and memory, lightweight so I can carry it with me and be able to work from anywhere, and at a good price. 
The M1 processor has a good reputation, and the macOS System is known to be one of the most powerful.
So far so good.
Apple MacBook Pro M1 Battery Life
Depending on what you use your laptop for, this may vary.
Apple claims that the MacBook Pro has up to 17 hours of wireless web and up to 20 hours of Apple TV app movie playback.
From my experience, the battery lasts around 13-15 hours. It consumes the battery faster when I´m editing videos.
This is still considered a remarkable performance.
How I use Apple MacBook Pro
Video Editing
Graphic Design
Video Calls
Webinars
YouTube Videos
The Apple Brand Community
Another thing worth mentioning is that when purchasing an Apple product, you can also be part of the Apple Community.
So
It's not only about purchasing a laptop, it's also about belonging to a community. 
Whenever I used to pass by an Apple Store, I have always wondered if all the people in the shop were making a purchase.
In reality, the majority are attending some type of class or tutorial about a Mac product.
I've started attending classes offered by Mac in Madrid. You are not obliged to participate but you're welcome if you'd like to join. 
They give classes about the Mac hardware and the software, so you are able to take full advantage of your Mac. 
PROS of MacBook Pro M1
It has a fan, better cooling
Long-lasting battery
Can run IOS Apps
Backlit Magic Keyboard with Touch Bar
macOS Operating System
Fast System
CONS of MacBook Pro M1
Has few ports
Not the latest model
The laptop does get warm at the back after working for long hours. I normally close it and go for a walk. It doesn´t take long for it to cool down.
Would I Recommend The MacBook Pro
This is my first Mac.
I have to admit I was a bit frustrated and confused until I transferred all my documents and started working only on my Mac. 
I was really busy and had work deadlines, so I panicked a little.
The Mac System is quite different from Windows.
Now, I´m getting used to it, and working on a Mac feels good.
I opted for the MacBook PRro16g RAM 512 GB SSD. It is fast and efficient. Due to my work, I have to open multi-tabs at once, and shifting between all of them is quick and easy.
it is perfect for traveling.
I hope this information helps. Do not hesitate to contact me if you require any further details.