If you would like to know how to build sales funnels, this article is for you. Learn how to build sales funnels for affiliate marketing the easy way. Bonus – Free Funnel Template
In this post, I´m going to show you how to build sales funnels for affiliate marketing in 3 steps, using the software Systeme.io
This is going to be a basic funnel you can start with to keep things simple.
But, first of all,
What is a Sales Funnel?
A sales funnel is a marketing concept whereby you are promoting a product or service to a potential consumer through online awareness, discovery, and evaluation. This eventually leads to a purchase, and finally acquiring loyal customers.
Generally, the end purpose of a funnel is to make sales.
Possibly a funnel can replace a website, and a sales page can be a one-page website, offering one product for sale, and many other upsells afterward.
The strategy is to get as many people attracted to a product, then funnel it down to those really interested in the product, and perhaps only a few end up purchasing. But these few will be your customers.
A funnel can have different purposes. It varies depending on your business, your product, your target market, and your goals. You may create a funnel:
to generate leads to build your mailing list
to sell a course or a product
to get to talk to a customer
to find local customers interested in your product or service
The Stages of A Sales Funnel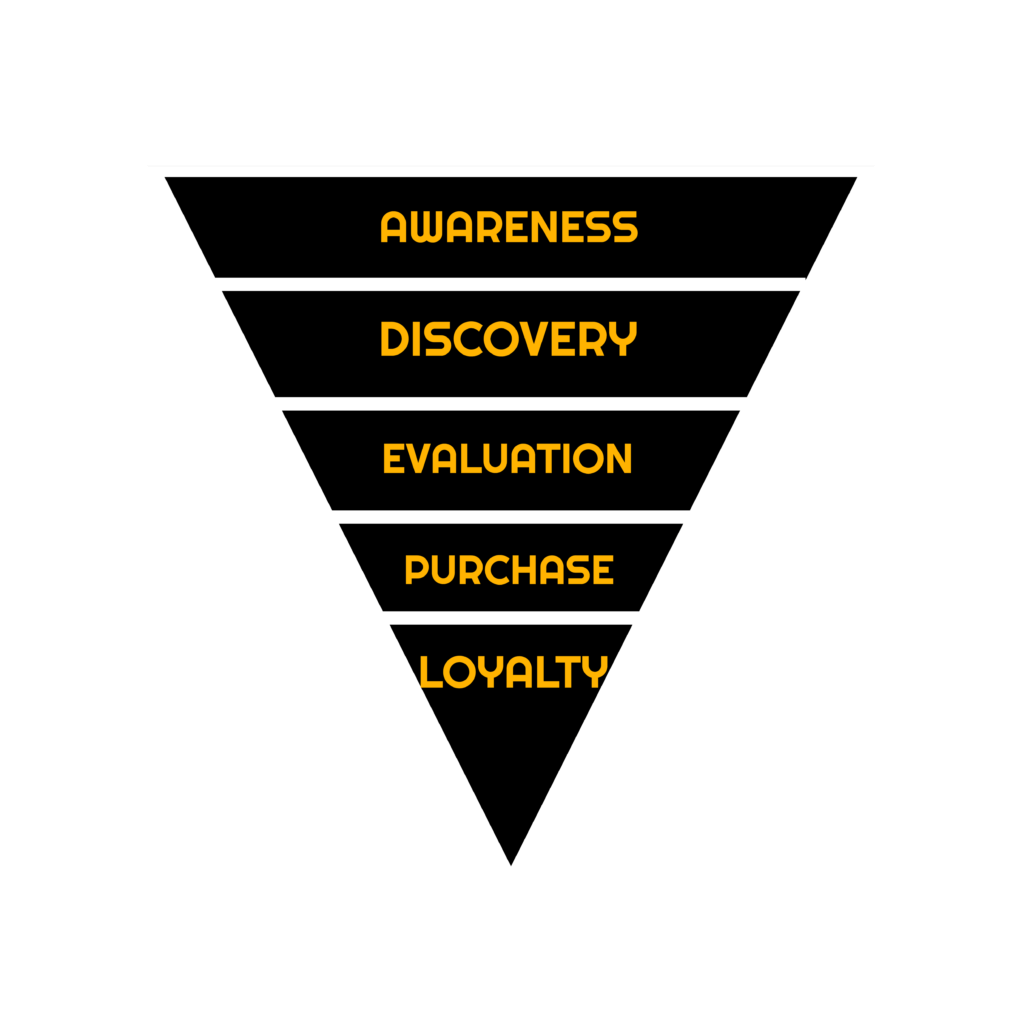 An Offline Sales Funnel Example
An example in real life of a funnel, that is not online, would be A COMMERCIAL BY MACDONALDS OFFERING A BURGER FOR 1.99$. This is brand AWARENESS.
People will start discovering the offer through BILLBOARDS and ADVERTISING.DISCOVERY
A COUPON LOW PRICE OFFER makes people EVALUATE the product, thus making the sale.
Once you enter the shop, and during the PURCHASE, the staff is asking you if you want the full meal, dessert, larger drink or fries, etc. You may also get a coupon for your next purchase. These are the upsells.
Because you like the food or the offer you will return for more in the future. LOYALTY
An Online Sales Funnel Example
A potential customer is navigating the web and sees a product they like. AWARENESS
The customer clicks on the link to get more information about the product or service. This may be your website or e-Commerce store. DISCOVERY
The customer likes the content and information you provided in the article and decides to make a purchase, by clicking your link within the post. EVALUATION
This link takes them to a sales page where the customer makes the purchase, and you will receive a commission. PURCHASE
If a customer likes the product they purchase off your site, they will come back for more of your products. LOYALTY
What Pages Make Up A Sales Funnel
The Opt-in form, Squeeze page, or Landing page that connects to a
Lead Magnet (free offer) or Bridge Page that connects to
The Sales Page to make the sale
These forms and pages will vary according to your needs, and the product you are promoting.
You may require a simple opt-in form that connects directly to the sales page.
Or a landing page with an inline opt-in form so prospective customers may read the content and give your their email before going to the sales page.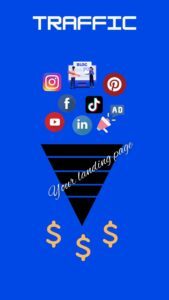 How Do You Bring Traffic To Your Sales Funnel
You can bring traffic organically or through paid advertising.
Organically would include optimizing your website with good SEO, through social media, and email marketing.
Now that we know what a Sales funnel is we need Software to create a funnel. And that is where Systeme.io comes in handy.
Note: You don´t necessarily require Sales funnel software as you can easily create a sales page on your website if you have one. Sales funnel software is recommended to ease your work as they include templates you can drag and drop your information into.
What is Systeme.io
System.io is an all-in-one software for entrepreneurs and online marketers created by Aurelian Amacker in 2018.
You may have heard of Clickfunnels already. Systeme.io offers similar software at a much lower price.
Features of Systeme.io
Systeme.io is more than a Sales Funnel software. The interface includes:
An integrated autoresponder to send emails

A platform to host membership sites

A payment page editor with 1-click upsells and order bumps

Management of subscriptions and installment payments

Automatic generation of your invoices

Managing your affiliate program
Is Systeme.io Free
Systeme.io is a free-to-sign-up platform with a paid option. You can start for free and upgrade when your business grows.
Next, we need a product to promote. You can sign up to JVZoo, Clickbank, or even Amazon Associates, and use any link in any niche you may be interested in.
How To Create A Sales Funnel in 3 Steps
Now that we have the software, and a product to promote, let us start building a funnel, shall we?
Make sure you have signed up to Systeme.io and follow along.
Step 1. Create The Funnel
From the main dashboard go to Funnels, then click on Create a new funnel. It will take you to this screen. Give it a title related to your product ex MyFirstFunnel. Then, select Build an audience, (to build an email list) then click Create to confirm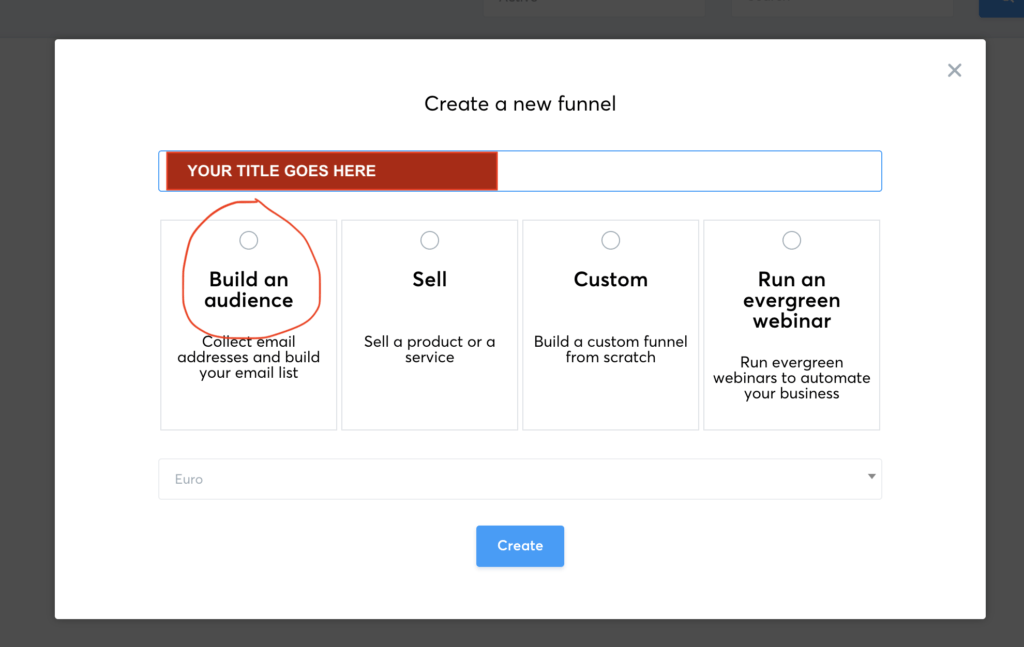 Your funnel is created.
Step 2: Select Templates
When you hit the blue Create button, you will be directed to a page full of templates to choose from.
Preview and select the template of your choice for each of your pages, squeeze page, opt-in, thank you page, etc.
For easy reference click on each page and name your pages ex Step 1: Opt-in XX Product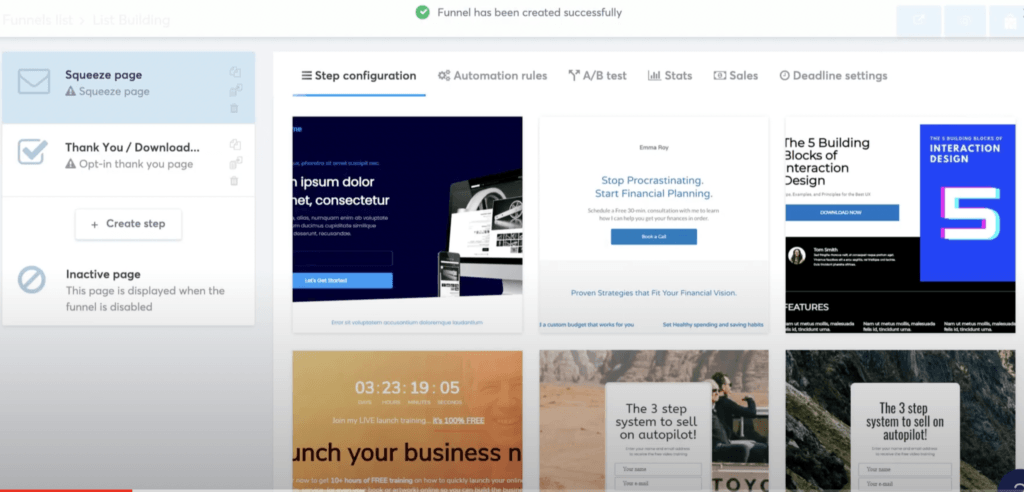 Step 3: Edit Your Templates and Insert The Links
Editing the pages is easy, using the drag-and-drop editor. This is similar to the WordPress block editor or Elementor if you are familiar with them.
TIP: When creating your landing page, try to mimic the Sales Page of the product you are promoting. Use the same brand colors and similar catchphrases. Don´t forget the call to action button. Also, stick to the same style throughout the pages you include in the funnel (opt-in, landing page). This shows consistency, and it´s easier for the customer to follow through.
Let´s continue with the editing:
Click on the page you want to start editing, click on the magic wand edit button on the right side, then change the text, color, and size to your liking.
You can optimize your pages for both desktop and mobile phones.
Link the pages by selecting Send form, To the next step as shown in the screenshot below.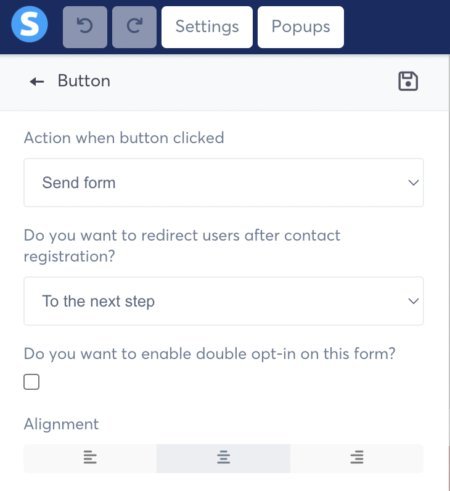 Add your URL page on the second page where it says Action when the button clicked
Once you finish editing, your funnel is complete, and the dashboard would look like this.

You can see the steps created on one screen. Step 1 and Step 2
The URL path link is the link you need to use to promote on your social media etc. Make sure you are on step 1 when you select the link (the squeeze page).
Remember to save every time you make updates (green button on the right)
You can click on the blue eye icon on the right, below the save button, to view what the form looks like.
The inactive page at the bottom can be used to show after your campaign has ended. You can place an opt-in page so you won´t miss out on any new leads.
And here is a video by Systeme.io that is easy to follow.
Pros of Systeme.io
Top-notch support service. Knowledgeable staff and they reply to every query with examples.
Free to join and you can stay a free member forever.
Good price in relation to what it includes.
User-friendly interface
All-in-one solution
Fast system
Facebook group where you can join and chat with like-minded marketers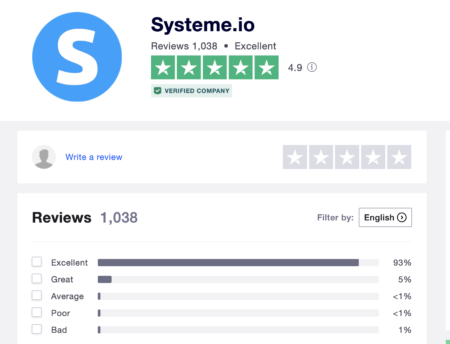 Cons of System.io
If you are not a tech person, you´d realize there is a moderate learning curve. However, once you figure out the process is the same. So you just have to rinse and repeat.
A limited number of Sales pages and sales steps you can create on the free version.
You do need a professional email to use for the funnel (you cannot use your personal Gmail or Yahoo email). If you don´t have one already, you can get a domain for $12-15 (Google Domains, GoDaddy, etc) that allows you to create as many email addresses as you want.
Is Systeme.io Legit
I have signed up with Systeme.io and tested them out. They are legit and professional.
Systeme.io Pricing
The price is insanely affordable when compared to platforms like Clickfunnels.
The freemium version is for life. Stay free if you like.
As your business grows you´d need to upgrade. You can have up to 2000 contacts on the free version.
The Paid Plan starts at 27 $ per month. The yearly membership saves you up to 30%.
Conclusion
In this article, I show you how to build sales funnels for affiliate marketing in 3 steps using the Software, Systeme.io
Systeme.io is a software with a suite of tools you can use to create and manage your online business. The tools include marketing and sales tools, hosting membership sites, autoresponder, running your affiliate program, and more.
Systeme´s support service is amazing. They will reply quickly and thoroughly with screenshots to explain things better where necessary.
If you are looking for a system to build sales funnels or replace your current one, then sign up to Systeme.io for FREE and give it a go.
There is no need to enter credit card details to sign up, and you can be a free member for life.
I have prepared a Sales Funnel Template that you can edit and use yourself after creating an account for FREE on Systeme.io, or logging in if you already signed up.