Would you like to have organic traffic to your site in the search engines – Google, Yahoo & Bing? Then you need a powerful research tool to find the keywords that rank. What about Jaaxy Keyword Tool; is it the best research tool?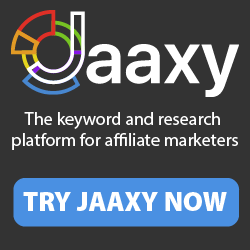 Read on to find out more.
Writing a lot of content and not getting enough traffic won´t earn you much money.
Therefore you need to find the right keywords that rank and get people to engage?
I have been using the Jaaxy Keyword Research Platform for some time now, and I will describe its features below.
So…
What is Jaaxy?
Jaaxy Keyword Tool was developed by Affiliate Marketers for Affiliate Marketers. Thus the making of a multipurpose platform directly by professionals.
| | |
| --- | --- |
| Product | Jaaxy Keyword & Research Platform |
| Founders | Kyle & Carson |
| Keyword Searches | 500 million |
Quick features list of Jaaxy Keyword Platform
Search for competitive and unique keywords that rank well.
Brainstorm and get niche ideas with little competition.
Check-in what position your posts and site are ranking.
List and find out details about your competitor´s ranking keywords.
Research keyword-rich domains.
Watch this Keyword Mastery video using Jaaxy.
---
Let´s check what´s inside the Jaaxy Platform.
As you may see in the screenshot below, the content is clearly displayed, and it is user friendly.
The Jaaxy Keyword Tool has different colours and you are able to research data easily.
Explanation of the search example below.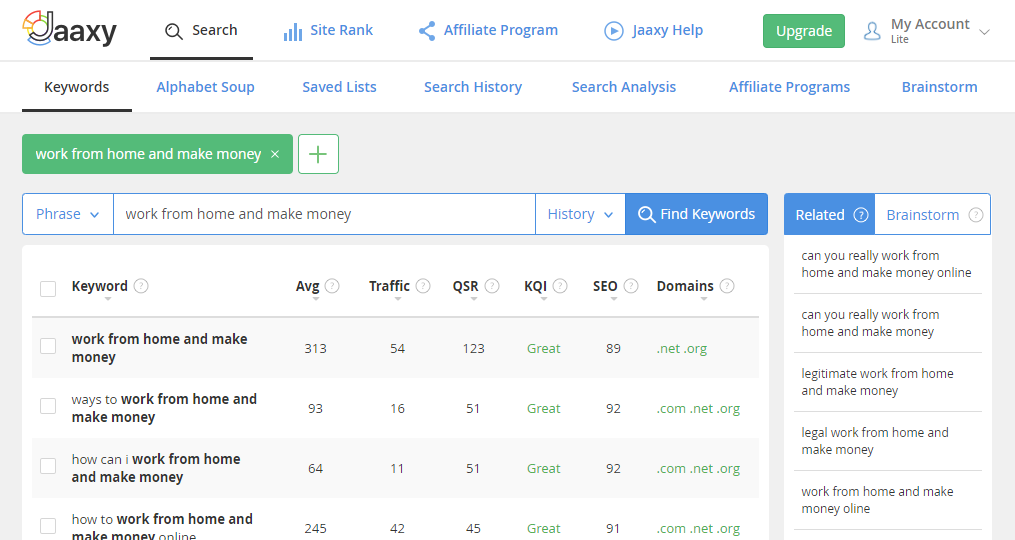 At the top next to the Jaaxy logo you can see the underlined word ´Search´, and right below the Jaaxy logo, there is the word ´keyword´ that is also underlined.
Let´s say you want to search the best keyword for ´work from home and make money´.
I have manually entered the phrase ´work from home and make money and hit the blue button ´find keywords´ on the right. As a result, you will get all the phrases and numbers showing on the screen, which I will explain below.
The phrases on the left are all possible good keywords that you can use for your site content or you can save them for later. At the touch of a button, you can create lists of keywords for literally months of content creation. This will save you time and once you do your research, you can then concentrate on writing good quality content.
In short, those numbers are giving you real-time data of the average search, traffic received and existing competition (QSR) for that particular phrase.
You also have the ´green light´ that the phrase will make a ´great´ keyword. This can be great, normal or poor.
Besides, you can see what domains are available for that particular search and you can create your own .com, .net, .org (this feature is available in the PRO version)
And there´s more.
ON the right-hand column you can find the blue button called Related, and just below it, you see a further list of phrases. This list comes up as a result of your search, and you can also look into these phrases as possible keywords for your content.
---
Do A Quick Search YOURSELF here
Why don´t you check it out right now! Just enter a word or phrase and hit Find Keywords.
---
The Alphabet Soup within Jaaxy Keyword Tool
Now that you know how to make a simple search on Jaaxy, let´s discover the Alphabet Soup.
If you do not like the phrases you get in the search, you can make use of Alphabet Soup for more ideas.
Once again you will enter a word or phrase and when you hit ´find keywords´, the tool will add pre and post words in alphabetical order, to your phrase.
You can see the dark blue line after the heading keyword+, that is where you drag the button to the right to move along the alphabet and find awesome ´long tail keywords that rank´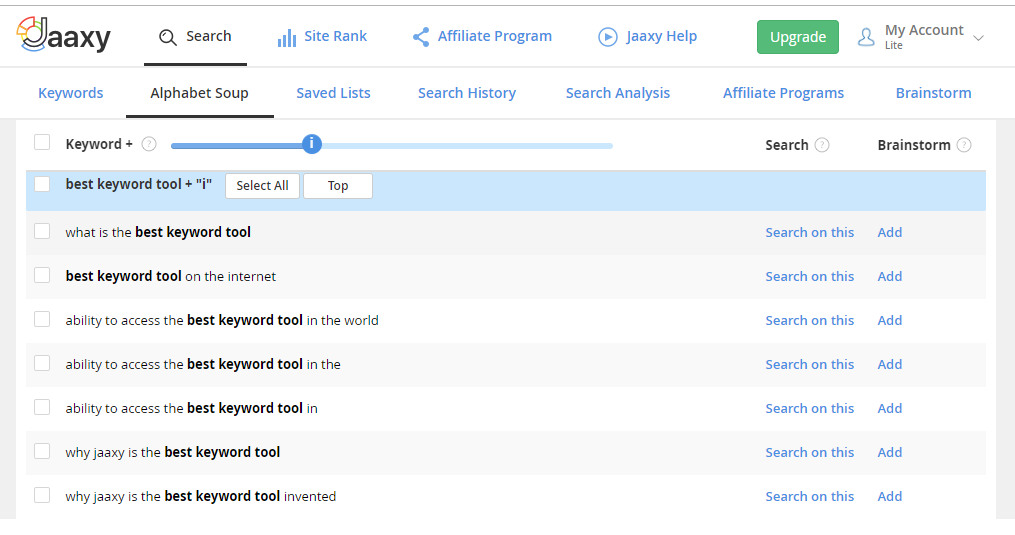 Also, from here you can save whatever keywords you like, you can add them to your brainstorm list or you can directly search more on this same keyword.
As you may see there are several ways of moving along the Jaaxy Tool and find more and more juicy keywords for your site.
The Search History category helps you retrieve old keywords you may have searched before but forgot to save.
Brainstorm will list hot topics for your niche and you can expand and research for more keywords.
---
Jaaxy Search Analysis – Who is Ranking #1 and Why?
Another wonderful feature of the Jaaxy Platform is the Search Analysis. Basically, you can enter any keyword of your own or your competition and see how it is ranking on google, bing and yahoo.
How cool is that? Check it out below
I just google searched ´make money online´ and selected the first organic keyword that came up that happened to be; ´40 easy ways to make money quickly´ (you can check this out yourself on google).
Then, I took that same phrase and entered it into Jaaxy under search analysis, and as I expected the result listed that same keyword as the first position on google 40 easy ways to make money quickly´.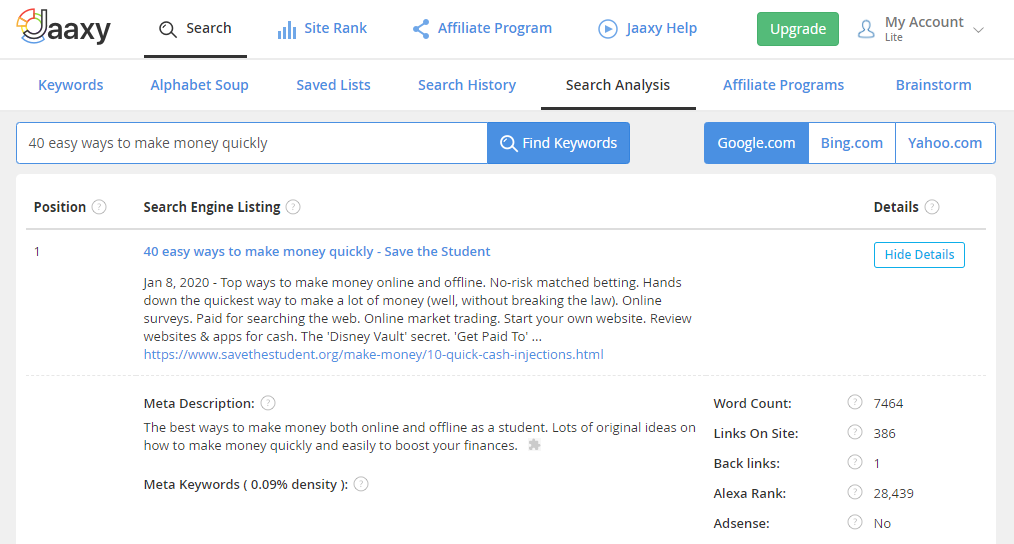 What does this data mean?
By hitting on ´view details´ you spy on the meta description, meta keyword and other ranking information of your competitor, including word count etc. This information can be very useful to help you overrank your competitor.
---
Jaaxy Site Rank – Find Your Ranking Position
Another feature of the Jaaxy Platform that can provide you with instant information about your position ranking is the Site Rank.
Over here I will use a keyword of my other site to show you how it works;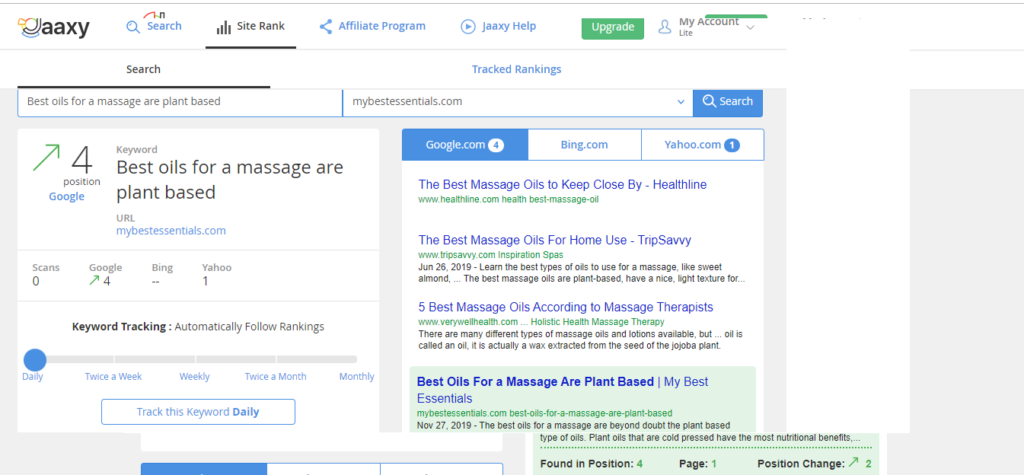 You will notice that I have ranked #4 on Google, not showing on Bing and ranked #1 on Yahoo. What I did is a search after entering the keyword, (best oils for a massage are plant-based), and my website.
---
What Is The Best SEO Keyword Research tool? Most certainly JAAXY
I hope you are convinced of how potent the Jaaxy Tool can be as it has many benefits.
Finding SEO rich keywords are the key to a successful online business, and with which you can compete.
Jaaxy Tool will offer you accurate results about the following and it will also provide you with the best successful keywords:
traffic
competition
ranking
How Much Does Jaaxy Cost?
| | |
| --- | --- |
| Product | Jaaxy Keyword & Research Platform |
| Price per month | Starter Trial Free / Pro 49 USD / Enterprise 99 USD |
There are 3 membership options of Jaaxy Keyword Platform.
You have the basic Jaaxy Starter which you can try at ZERO COST with limited features but will give you an idea of how it works and you can try out some tools I described above.
Jaaxy Pro a paid version; is the most popular for new websites and you basically have access to all the featured tools above with a manual search feed.
Jaaxy Enterprise is also a paid version, and the most powerfully designed for the PRO. This is ideal for multitasking as you can open more than one window search at the same time, and all search feeds are automated. That is when you enter the phrase for keyword search you have all the information unfolded in front of your eyes in seconds. It is the fastest and most efficient for swifter results.
---
Conclusion
In this article I have listed the main features of Jaaxy Keyword Platform.
I hope you find the above information useful. I tried to include as many details as possible, though I may have left some features out because the tools with Jaaxy Platform are endless.
I should also mention the speed and accuracy of the Jaaxy Research Platform that does save you a lot of time.
Feel free to leave a comment if you have any questions, and I will be more than happy to help. Enjoy using Jaaxy Keyword Tool!
---
Disclosure: This post contains affiliate links. For more information please see my disclosure here
---
Would you like to get started in affiliate marketing and create your own online business? Learn how to create your first blog for FREE with the PROs. Join the No.1 learning platform and start for FREE. No Scams. More info here.