This is an introduction to the Print-on-demand business model, and in this article, I will be reviewing Teepublic. Teepublic is one of the largest and easiest Marketplaces among the print-on-demand available platforms, and it is also the simplest to learn especially if you are a beginner. So the reply to your query, Is Teepublic a Scam?, is definitely a NO, NO.
Is Teepublic a Scam?
Far from it.
Teepublic has a straightforward and uncomplicated interface, that is also very user-friendly, and you can learn to use it in no time.
As of 2018, Teepublic is owned by the Australian Company Redbubble.
In terms of popularity, Teepublic comes 4th in line after the Giant Amazon, Etsy, Redbubble, and then Teepublic, with over 9 million visitors per month, mainly from the United States and the rest of the world.
What is Print on Demand Business?
For those of you who are new to print on demand, it is a business model whereby, as an independent artist, you can create your own store and upload designs to high-quality merchandise provided by a marketplace like Teepublic.
You do not need to pre-order, stock, store, or hire space for your merchandise.
Whenever you make a sale through your shop, which you can set up easily within the platform, Teepublic will take care of the printing and shipping, and you don't have to worry about anything.
You will in turn receive a % royalty. See earnings below for more details.
JOINING, UPLOADING, AND SELLING ON TEEPUBLIC IS COMPLETELY FREE OF CHARGE
How wonderful is that! You can start off your print-on-demand business for free. NO RISKS, AND NO MONEY INVESTMENT.
Teepublic is a popular marketplace with excellent reviews.
Disclosure: This post contains affiliate links. For more information please see my disclosure here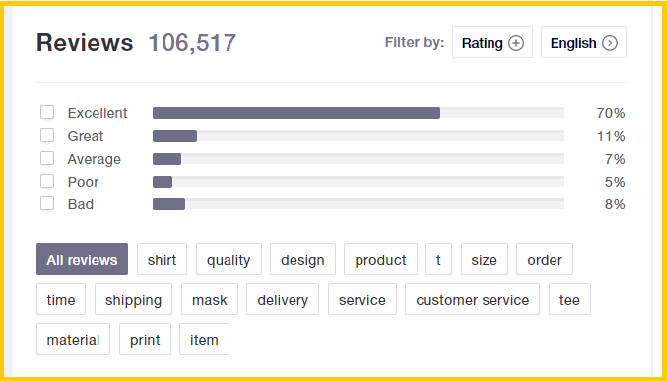 How to Set Up Your Account on Teepublic
So to open an account on Teepublic, all you have to do is sign up, simply by giving your email address, where you will receive a joining request.
To complete your account on Teepublic you need to fill in a few details and you are ready to go.
The initial information required is a;
store name,
brief biography about yourself,
and your artist name.
method of payment
You are asked to select the preferred method of payment between PayPal and Pioneer.
Uploading a Design on Teepublic
Once you have the account set up, you can immediately start uploading your designs. Assuming that you already have the designs ready, you can upload them from both your computer and your phone.
You can create designs fast on Placeit design tool
The process is very simple. Click on Upload a design and you can see an area where you can drop your PNG file, then wait for the system to do the uploading. 
The recommended size to fit all products is 5000px X 5500px.
The next thing to do is to create a Short Title and a brief and creative Description for your design.
Besides, you have to insert the Main tag and 14 more tags. Generally, once you enter the main tag you will get suggestions for the rest of the tags.
The tags are important as they are your keywords that will help with your SEO (search engine optimization). Tags are phrases and words that potential customers will enter to search for your design. In total, you can use up to 15 tags for each design.
Your Main Tag is the one you should pay more attention to. Teepublic suggests you ask
(What one tag would I search to find your design?).

TeePublic
Watch the video further below for more details.
Okay, so let´s continue with the creation of your listing.
Once you have chosen a Title and filled in the tags, you go and select the first product, and the first one is normally a T-shirt.
Next, choose a default color that goes on all of the products listed below your first product. You can select a different color for the rest of the merchandise or else stick to the same color. For example, you can choose one color for the hoodie and a different color for each of the kids' apparel.
Some of the products might require some adjustments since your design won´t be centralized on all products. This is easy to modify with a few clicks. You just have to select the product and use the scale ruler provided to enlarge or make the picture smaller, and then you have other tools to adjust it horizontally and vertically.
Once you are happy and your design looks centered on all products and the color is set, you just have to mark that you have read the terms and conditions, and Voila!, you have your first listing ready to sell. Well done!
There is no particular order on how you process the above. After uploading your design you can either adjust the products and color and then fill in the Title and tags section or vice versa.
After publishing a design you can edit, copy, and deactivate it from your storefront.
What Merchandise is Available for Sale on Teepublic
Below is a list of all the high-quality merchandise available on Teepublic for you to sell once you upload your designs.
T-Shirts, short and long sleeves
Hoodies
TankTops
Sweatshirts
Stickers
Phone and Laptop Cases
Kids Tshirts and hoodies
Onesies
Mugs
Wall Art
Notebooks
Pillows
Totes
Magnets
Masks
Some Tricks and Tips for Your Teepublic Store
Here are some tricks and tips for you, make sure you look into them so you can sell more.
Create Albums
It is recommended to create albums for your store. To create an album you have to go to ´my store´, then . ´manage my store´, and ´manage my albums´, and here you can create and/or edit different albums. Each album will represent a category in your store. You are recommended to create three to four albums.
The albums or categories can be, let's say: Christmas, nature, etc. These are just ideas and you can come up with other titles related to your niche.
Hire An Artist
One interesting feature on Teepublic is that you can opt-in so customers can hire you as an artist. This will be featured on your storefront and clients can contact you directly. If a client sends you a message you will be notified by email by Teepublic. You will be able to reply to your clients from the message box in Teepublic.
Make sure you negotiate the price and the payment method with the client directly before you begin the task. Teepublic does not get involved with the negotiation of prices with your client.
Affiliate Program
Teepublic also has its own affiliate program, and if you are an affiliate marketer, you can promote Teepublic and get your commission when somebody signs up using your link.
Fan Art Program
This is something that you are going to like as it is a no-brainer for any artist. Teepublic gives you the possibility to sell officially licensed fan art on Teepublic. Isn't it amazing?
Fan Art is about creating designs for important brands and you can sell them in your store with your other designs.
Once the fan art design is created you will upload it just like any other of your designs. There are some rules to follow, and you are to use the tags as indicated in the brand´s guidelines. When you submit it, each design has to be approved by Teepublic before it becomes available for sale. This process might take a while and meanwhile, it is saved in the section under review.
Sale for up to 72hrs
When you upload a new design, Teepublic runs a sale for 72 hours for you, and this can be viewed by your potential clients under, Explore – Tees on sale – And clients can click directly on it to check what is on offer.
T-Shirt Tag Directory
This list is available within the store and provides you with information on what is trending.
How Much Do Artists Make on Teepublic
Product
You Earn
on Normal Price
You Earn
When on Sale
Classic T-Shirt
4.00 USD
2.00 USD
Classic Hoodie
8.00 USD
4.00 USD
Stickers
0.75 USD
0,50 USD
Coffee Mug
3.00 USD
2.00 USD
Poster 16¨ x 24¨
4.00 USD
2.50 USD
Face Mask
2.00 USD
1.00 USD
Go to the full list of earnings.
Can You Increase Prices on Teepublic
No, prices are fixed on Teepublic. You cannot adjust your royalty like other marketplaces, however, you can expect the best royalties offered in the print-on-demand business.
When you publish a new design it goes on sale during the first 72 hours, after that, all designs are featured at the normal price, unless Teepublic is running a sale. This occurs during special events like Black Friday, Christmas, etc.
Teepublic Account Category Information (Updated May 2023)
Starting May 8, 2023, TeePublic will be increasing its existing service fee, which is a fixed fee charged to artists for each sale made through the marketplace.
Unfortunately, this increase will result in reduced artist earnings for select products.
Depending on the Account Category, which is divided into Artisan and Apprentice Accounts, the size of the service charge increase will vary.
Artists whose original designs are likely to catch the attention of shoppers perusing TeePublic's marketplace are represented by artisan accounts. They will receive a discounted service fee increase, which translates to a smaller reduction in earnings.
Apprentice Accounts, on the other hand, represent designers who are less picky about the things they create and are less likely to get the attention of shoppers.TeePublic's service fee will be higher for these accounts due to the additional costs of hosting their designs.
Teepublic Artist Earnings
Beginning May 8, 2023, Artisan Accounts will earn $4 on full-priced ($2 for discounted) sales of apparel and select home goods, while Apprentice Accounts will earn $3 on full-priced ($1 for discounted) sales of apparel and select home goods starting June 1, 2023.
Keywords and Tags on Teepublic
Watch the following video for some good hints on how to choose relevant keywords (tags) in your listings to appear in search results.
Teepublic Artists Support
Should you wish to contact Teepublic, get in contact with the helpful team by email at community@teepublic.om
Sustainability
I can NOT mention Teepublic's commitment to the environment and our planet. All products are sourced from suppliers who are WRAP-certified, and the printing is eco-friendly.
The Verdict
Teepublic is an easy-to-use marketplace for independent artists who can create and sell their designs on various good quality merchandise.
Artists do not have to pre-order or hassle with storing the goods, as the designs are printed when an order is placed by your customer.
Teepublic is recommended for beginners as you can upload and publish a listing in 5 minutes.
Make sure you complete your account details and set up your store properly, as it is one key factor so your designs will show on the search results, and you will be able to start making sales.
I hope you find this information useful and I wish you the best of luck if you choose to start selling your art on Teepublic. Remember, persistence is the key to all success, and do NOT give up if you do not make sales immediately. Keep on making designs and uploading, and eventually, you will get your first sale, and many more will follow afterward.
Feel free to share with friends and family members who wish to start a side hustle.
And here is a book by Michael Essek, that I purchased and that I highly recommend for EXCELLENT T-shirt design ideas, and you can get it on Amazon.
GOOD LUCK!
Pros
User Friendly
Variety of Products To Sell
High Visibility in Google
Cons
Not the largest Marketplace