Two names that top the list of online course sellers are Teachable and Thinkific. Trying to figure out which one will be the right choice? Read this Teachable vs Thinkific comparison to find out!
Would you like to create and sell online courses under your own brand?
There are many online course solutions available in the market today that are specially designed to cater to the recent surge in e-Learning. Teachable and Thinkific are among the most robust platforms in the industry offering all the crucial features required for a course creation tool. Wondering which one will be the right tool for you? Find out the answer in this Teachable vs Thinkific review.
What is Teachable?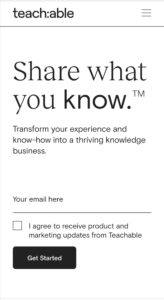 Teachable is an eLearning management system that was launched in 2014. It currently hosts more than 83,000 instructors and 23 million learners. It is especially useful for bloggers and creative content makers as well as online educators.
Key Features of Teachable:
Quick drag-and-drop builder tools to develop websites
Features modern sales pages that encourage engagement
Analytics tools are available in Teachable; they can calculate ROI and more
Who Uses Teachable?
"Everything is Teachable" – with this slogan, Teachable targets a broad group of people who can leverage the skills and experience of artists, bloggers, business people, educators, and everyone in between.
The platform is very easy to use and comes with a straightforward dashboard. The course builders are much more intuitive than Thinkific. They also have excellent marketing and sales features to help course providers with their business model. That's not all – the platform comes with its very own reporting tools to help you analyze how your course is doing too.
What is Thinkific?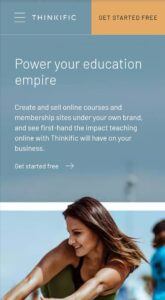 Founded in 2012, Thinkific is one of the most prominent online course hosting providers, now powering more than 40,000 creators and over 30 million classes. Not only does the platform offer classes, but it also allows providers to offer memberships – all that from one site!
Key Features of Thinkific
Absolute control over your eLearning space, content, and learners' data 
Brilliant web designing features – you don't need to know HTML or CSS to customize your website
Engaging marketing and analytics tools
Who Uses Thikific?
Thinkific mostly powers academic and professional course creators who thrive to offer an engaging learning experience for their students. From entrepreneurs who offer courses on business models to life coaches – Thinkific hosts a large number of courses.
Thinkific offers powerful quizzes and built-in assignment supports. You can even create a community forum for peer-to-peer reviews. In terms of site-building features, Thinkific has much better tools than Teachable. If these feel like features that you might need, then you should opt for Thinkific.
Teachable vs Thinkific
Teachable vs Thinkific – Course Creation
When it comes to course creation, both Teachable and Thinkific do a wonderful job of creating high-quality, engaging content. While the course outline depends on you, the presentation is awesome on both platforms and in all honesty, you cannot go wrong with either of them.
The course builders featured on Teachable are generally more flexible. You can even set up a native iOS app for learners. In contrast, the quizzing and assignment features on Thinkific are more advanced. It even hosts a line of community and group features to strengthen peer-to-peer engagement.
Quizzes and assignments on Thinkific are rather advanced while Teachable offers short text questions and optional grading systems.
Another major difference between the two platforms is their content-locking features – Teachable offers none. In contrast, through Thinkific, you can block learners from accessing all of the course materials at once. You can install features to have them climb up to access certain lessons only after completing the prerequisite lessons.
Teachable vs Thinkific – Checkout Process
Teachable has a simpler checkout process than Thinkific. In order to check out a course on Teachable, users simply need to fill out a form offering their personal information and they are set for the 1-step checkout process. You can also add custom features to your Teachable course as well, including a money-back guarantee, testimonials, and more.
In the case of Thinkific, the checkout process is a little outdated. It is a lengthy two-step checkout process that is often the reason for losing a significant amount of learners. The platform does not have as intriguing custom elements for you to add to the checkout page.
Teachable vs Thinkific – Price Plans
Teachable and Thinkific both have four-tier pricing.
First-tier: They both offer a free plan on their first-tier pricing.
Second Tier: In the case of Teachable, the second tier price plan is the Basic Plan, which costs $39 per month. As for Thinkific, it is $49 per month.
Third Tier: The Professional price plan costs $119 per month on Teachable and $99 per month on Thinkific.
Fourth Tier: The Business plan or Premier plan in the case of Thinkific costs $299 per month on Teachable and $499 on Thinkific. It is designed for advanced course providers.
Thinkific does not charge any transaction fee when you receive payment for your course. However, such is not the case for Teachable. You will need to pay a charge of 10% + $1 on each transaction on the Free plan, which comes down to 5% on the Basic Plan.
Another essential point that sets the two platforms apart is that you can claim instant payouts on all your Thinkific plans, which is only allowed on the Pro Plan and above in the case of Teachable.
Overall, the price and payment module of Thinkific is much more beginner-friendly than Teachable. However, the add-ons offered by Thinkific can be more expensive than Teachable.
Conclusion
After taking a closer look into Teachable vs Thinkific and the features that set them apart, we can tell you that there is no winner or loser in this battle. Depending on what your needs are, you can benefit from either of the online course sellers. In terms of course creation, both Teachable and Thinkific have brilliant features to offer. You will need to consider your budget and learner base in order to make a decision. We hope that our article has helped you understand the key difference between Teachable and Thinkific better.