Golden Leads is the world's first financial affiliate network. Want to learn more about its offerings? Here's all you need to know about Golden Leads.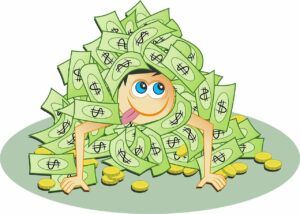 Golden Leeds is the first of its kind. It is an affiliate network that works exclusively in the financial space. It is a relatively new company, and we are going to break down what it has in stock for you in this Golden Leads review. Keep reading to learn all about it!
What is an Affiliate Network?
Affiliate networks are the intermediaries in the affiliate marketing industry. They connect marketers or bloggers to various affiliate programs. This makes the task of managing multiple affiliates programs much easier since you are leveraging a single portal where you can access them all.
Amazon is among the most popular affiliate programs in the market, offering you up to 10% in commissions on each sale you accomplish. However, there are many other lucrative offers from affiliate programs, including the ones from Walmart, eBay, Etsy, and so on.
If you want to scale your affiliate marketing business, you can opt for multiple programs at once and generate a significant amount of revenue from several sources. In this regard, a well-established network will help make your journey smoother.
There are many affiliate networks in the market, such as ShareASale, Clickbank, Amazon Associates, and so on. But they are all-encompassing networks and host programs from all niches.
A few years ago, the industry did not have an affiliate network that specializes in the financial space; that is until now. This is where Golden Leeds came in to fill this void in the market.
Golden Leeds is a company that realizes that there is a huge difference in the way one promotes cosmetics or gadgets and an investment opportunity. As such, they built a unique model for financial affiliate networking.
What Makes a Good Affiliate Network?
Quality, not quantity – this is the most essential philosophy that a good affiliate network needs to possess. A good network will always work toward bringing in reliable and high-quality programs that offer reasonable commission rates, instead of focusing on the number of publishers on their network. Numbers should be prioritized, of course. After all, it offers marketers more options and flexibility, but it is only something that follows quality.
Transparency is another important criterion for a good affiliate network. The network should lay out its mechanism in detail and where they generate the traffic from. This helps them build reliability and good relationships with both publishers and marketers.
A good affiliate network will also specify which orders your publishers have delivered and exactly which ones you are invoiced for. You will also be let in on their background story and how they came to be.
In addition, you will be allowed to have direct communication with your publisher. Not only that, but a good affiliate network will always cater to your needs and allow you to have direct communication with them whenever you're in need of support too.
And the best part is that Golden Leads meets all these criteria and more.
Is Golden Leads Worth It?
Golden Leads is a financial network that offers more than just affiliate marketing solutions. The platform hosts publishers who are dominating the financial space in an effort to help both marketers and financial companies.
Affiliate marketing is a passive marketing strategy that helps companies generate more traffic and convert them into sales with the help of independent marketers. Companies who partake in these programs benefit highly from the system and, therefore, pay a commission to the ones who helped them make the sale. While large companies like Amazon and Walmart are scaling exponentially, thanks to affiliate marketing, Golden Leads has entered the market with an aim to help the financial industry even further.
They have designed a unique model that will connect financial companies with high-quality affiliate marketers who own prestigious financial blogs, websites, and social media channels. Because of this, it is a win-win situation for all parties involved.
Golden Leads ensures that no stakeholders meet any risk or loss throughout their journey with the financial affiliate network. The process entails almost zero risk and high transparency with a thorough track of all invoices.
Besides affiliate marketing, the program also offers expertise on web design, social media, SEO optimization, Digital Strategy, Content Strategy, UX design, and much more.
Since the company prioritizes quality over quantity, they are offering membership on an invitation-only basis. Their goal is to build a community of high-quality affiliate marketers and reliable publishers, which will enable them to create a safe business space for all stakeholders. So, if you are thinking of joining Golden Leads, as an affiliate marketer or a business seeking promotion in the form of affiliate marketing, you will need to request an invitation and wait for their approval.
Bottom Line
The main takeaway here is that, even though they are a new entrant in the affiliate networking industry, Golden Leads seems to show promise and potential to scale. So far, upon our research, it has met all the criteria for being a brilliant affiliate network, and we are hopeful that the network can meet its goal to help the financial companies, as it set out to, down the road. We hope that you have found the information that you were looking for in this Golden Leads review. Good luck!
Would You Like to Become an Affiliate Marketer? Then click here for information on the nº1 recommended platform where you can begin your online business journey for FREE.