In this Canva App Review, you will find out what is Canva and learn the basic designs you can create on the Canva App.
You do not have to be tech-savvy to use Canva App. Everyone can learn how to use it quickly.
You do not need to have any design experience.
First of all, you need to download the App on your phone, then sign up by using your email address or you can join by using your Facebook or Google Account.
Once you log in you can access all the features available in the basic or pro version, according to the plan you go for.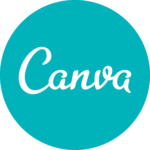 Canva App is synchronized with your desktop Canva version, so you can finish off any pending graphic when on the go.
Information About Canva
| | |
| --- | --- |
| Product | Canva & Canva Pro, Desktop and App version |
| Founders | Melanie Perkins, Clifford Obrecht, Cameron Adams |
| Launch | 2013 |
| Users | More than 10 million users, across 179 countries in 47 languages. |
| Located | 3 different countries; Sydney, San Francisco & Manila |
---
What Graphics & Documents Can You Create on CANVA?
A great variety of templates are available on Canva. You have templates for all social media as well as other useful documents for marketing presentations and designs.
With Canva You can create the following and more;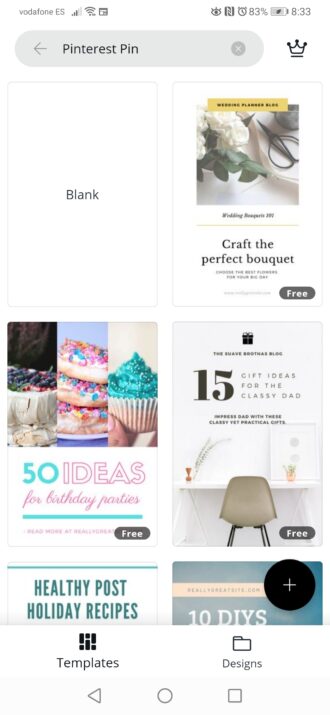 Photos for all social media, including Facebook, Pinterest, Instagram, Twitter, and Youtube.
Logos
Flyers
Posters
Resume
Business cards
Photo collage
Invitations
Announcements
Certificates
Blog banners
Menus
Letterheads
Magazine Covers
How to Create a Canva Design
Canva has a drag-and-drop interface that makes it so user-friendly and easy for everybody.
You can select a blank document and design it from scratch.
OR
Select a template you like, and start editing.
If you require any images, you can enter a word or phrase in the search bar and be sure Canva brings up one or more high-quality illustrations you can choose from.
How to Upload Photos and Personalise Your Canva Design
In Canva, you also have the possibility to upload your own photos and clipart.
If you are using the phone App, you can take an instant photo and upload it. Cool!
Once the picture is uploaded you can edit it as you like. You can crop it, make it transparent, flip it, and even change filters.
You also have an undo button to go back if you don´t like the end result.
You can add text, change font and size, and even color.
How to Store or Forward Your Canva Design
The uploaded photos as well as the new designs you create can be stored and organized in folders within Canva. This is quite handy when you start adding more and more photos and designs, you will be able to retrieve them quickly.
With the free Canva version, you only get a folder or two. If you require more you need the Canva Pro version.
The designs you create can be saved or exported to your photo album on your phone or on your desktop, or published directly to your social media.
It is also possible to send a view or edit link of your design via social media.
You can re-use a design you have previously created by saving it as a JPEG and reloading it into your photos library on Canva.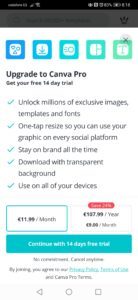 Canva & Canva Pro
There´s a free version of Canva and there is also a paid version called Canva Pro with more features and free templates and photos.
Canva offers a 14-day free trial for the Pro Version.
Additional features of Canva PRO
Access to millions of exclusive templates, fonts, and images.
You can create a team if you are working with other people, so everyone can access the folders and work on them.
You can download your design and make an image with transparent background.
You can resize your finished design to the measurements of another social platform in only one click.
Pros of Canva
The free version can give you a lot and if you are a blogger or a small group, you do not need to upgrade to Pro unless you want more exclusive designs and productivity.
2. Templates have the exact dimensions of each of your social media and there is no need to adjust the size. More than 8000 free templates are available.
3.No need to download any software. You have everything within the App.
4. Many graphics and free photos to choose from.
5.No need to have experience in graphic design.
My Final Thoughts on Canva
I use Canva App to create designs for Pinterest and Twitter. I love how quickly you can complete a design once you come up with an idea. I choose a template that attracts my attention and start editing.
Many times I create designs when I´m commuting and it is so satisfying to complete a design before you reach your destination. That is how easy it is to manage the Canva App, once you figure out how it works and where to click.
I love the simplicity of Canva as I am not a technical person.
Canva is a perfect tool for all blog creators out there! YOu can take your website and social media designs to another level. 
---