Wondering which to choose between Fb (Facebook) ads and Google ads? Let's analyse the difference between the two platforms before answering the question.
Digital advertising has been on the rise for quite some time now, and it largely replaced print media and television commercials. Simply "Googling it" gets us most answers these days; it's so convenient that no one quite bothers to look elsewhere. Digital advertising has gained momentum, and there's no looking back now. Facebook ads and Google ads are mostly dominating the digital advertising space. But which one will make the right choice for your business? Read our Facebook ads vs. Google ads comparison to find out!
Understanding Facebook Ads
With the highest number of daily users, Facebook has become one of the largest social media platforms, and marketers are leveraging it to reach more audiences. Facebook ads are another name for a paid social platform, and it is a lucrative marketing platform today.
A paid social helps businesses meet their target audience. Customers are introduced to new brands based on their search history, activities, and the things they're interested in. So, basically, you don't have to go looking for customers – they will find you. And the leads generated in this process are more likely to convert since their interests already align with yours.
Facebook is a vast global network, generating the highest number of traffic among social media platforms. It has over 1.55 billion monthly users. So, your business is likely to meet a large pool of target audience. Moreover, Facebook has a great ROI, making it a highly valued digital marketing platform.
Understanding Google Ads
Google is the largest search engine in the world, and Google Ads refers to its paid search process. In fact, Google ads and paid search are two interchangeable terms. Unlike paid social, with paid search, you will have to look for your customers. Google ads helps you focus on specific keywords and offer text-based ads on various websites and blogs.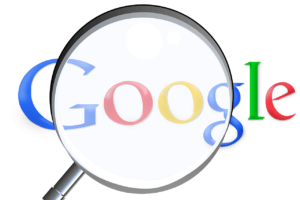 How does this work?
You will have to associate an advertisement with a certain set of keywords. So, as soon as your target audience looks up the keywords, your business ad will be displayed among the search results.
And each time a lead clicks on an ad, you will be charged a sum of money. That's why Google ads are synonymous with pay-per-click ads.
Why is going for Google ads a good idea?
The search engine processes about 3.5 billion searches every day and generates the highest traffic among all online platforms. Needless to say, you are introduced to an unprecedented number of audiences and potential traffic on Google. Not only that but Google ads also offers a lucrative set of ad formats for you to choose from.
Facebook Ads vs Google Ads
Goals and Objectives
Before deciding which advertising platform will make an ideal solution for you, your business will need to have a well-defined set of goals. If you are opting for brand awareness and understand market demand, then Facebook may make the right choice for you.
Through Facebook ads, you will only meet an audience that already has the intent of purchasing your product but doesn't know of your brand. So, the chances of raising brand awareness while also securing sales are much higher on Facebook. On the other hand, if your goals are to generate more leads and convert them into sales, then Google ads should be the right way to go.
Costs
In terms of cost and ROI, Google ads are the undisputed king. While Facebook ads are slightly cheaper than Google ads, they have a lower ROI than Google. The average cost per action on Facebook is $18.68 while that on Google ads is $48.96. However, the number varies depending on industries.
Targeting
As far as targeting options are concerned, both Google ads and Facebook ads will give you several choices. However, Facebook offers a much more convenient and advanced set of options. Besides targeting by age, location, gender, Facebook also allows you to target an audience pool whose interests align with your services.
For example, if you are in the books selling a business, you will automatically generate leads who are readers. This is a part of the paid social marketing strategy, and it works wonderfully for small businesses and startups.
Advertising Content
In terms of ad formats, Google Ads offers a range of templates and formats, alright, but there is little room for texts. Texts on google ads appear as small blocks and often fail to catch the eyes of the audience.
Facebook ads, on the other hand, offer more room for creativity. You will find a range of text patterns and templates to choose from. You can even pick video carousel ads and carousel ads. So, Facebook ads are generally more impactful and likely to catch your audience's attention.
All these factors aside, you will need to consider the targets of your marketing campaign before making a decision. If your campaign is more sales-centric and you need a higher conversion rate as soon as possible, then Google Ads will make the optimal choice for you. Both B2B and B2C businesses leverage Google ads. On the other hand, if gaining a wider pool of audience at a lower ad spend rate is your campaign goal, you are likely to benefit from Facebook ads. And generally, B2C businesses work better with Facebook ads.
Conclusion
Both Google ads and Facebook ads are powerful platforms for running your next big marketing campaign. While there is a constant debate between Facebook Ads and Google Ads, businesses can benefit from either platform. Small businesses or startups that are just setting sail can leverage Facebook ads to gain more brand recognition. It is also designed to support the most modest advertising budgets out there.
In contrast, if you are an already established business that needs to increase its conversion rate and scale the business, Google ads is likely to be the better alternative for you. We hope our article has helped you understand the mechanism of both of these platforms better.
A great way to earn money online is with Affiliate Marketing? Get more information on HOW to create a blog and HOW to start off or step up in affiliate marketing.