The Wealthy Affiliate Free Starter Training is FREE OF CHARGE.
If you are looking for an affiliate training program to start an online business, but you want the support and encouragement of like-minded people, this course is for you.
Update 2022
Please note the Free starter course has been updated, and it is now simplified for beginners. On the free training, which consists of 5 sessions, you will:
Be guided through the platform and how it works
Learn how affiliate marketing works – the process
Get detailed information about what is a niche, which is the core subject of building an online niche website
Create your own website – the fun part
Know what to expect if you decide to continue your online journey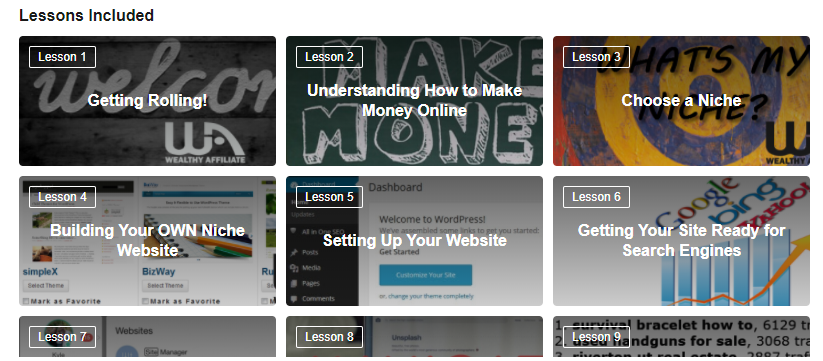 The Benefits of the Wealthy Affiliate Free Starter Training are;
You can access a 10-lesson course for free.
Each lesson includes a walkthrough webinar and also a written version.
You will have the opportunity to discover the Wealthy Affiliate Platform
During the first 7 days, you will have access to live help within the Community
You can build one website of your own whilst learning
You can do up to 30 searches on the powerful Keyword Research Tool
The Free starter training will give you the opportunity to see if this is what you are after.
Share these benefits on Twitter.
ALL THE ABOVE MENTIONED IS AT ZERO COST TO YOU.
It is worth mentioning that all success requires dedication and consistency, and you have to apply these QUALITIES as soon as you sign up with Wealthy Affiliate
AND during the 7 days of the free starter course, so as to acquire maximum knowledge from the training, in a short time possible.
Should you follow all the instructions, read the lessons, and watch the videos diligently, then you will be able to gain as much from the FREE STARTER TRAINING.
The training is well planned and at the end of every lesson, you have tasks to complete. This makes it easy to check your progress before you move on to the next lesson.
---
Disclosure: This post contains affiliate links. For more information please see my disclosure here
WEALTHY AFFILIATE FREE STARTER TRAINING STEP BY STEP
Today I will show you step by step what each lesson consists of, so you will know what to expect and what you can learn in this free training course.
The entire Online Entrepreneur Certification (OEC) is designed to walk you through the creation and growth of your online business within any NICHE of your choice.
The Getting Started, Level 1 training includes the following 10 lessons
#1. Getting Rolling at 0USD
---
Lesson 1 of the Free Starter Course at Wealthy Affiliate.
Basically, this is a presentation by the owners of Wealthy Affiliate, namely Kyle and Carson, and an introduction to the online business. They explain who is the course for and guide you on how you can successfully build your online business, by following the training STEP by STEP.
One thing I liked straight away is that at Wealthy Affiliate they immediately motivate you to take action, participate and ask questions whenever you are stuck with your training.
Members at Wealthy Affiliate come from all over the world and from different backgrounds so what one understands easily may be more difficult for another, reason why you always have to ask questions.
At this level, you will be able to create your own profile as a starter member and set your future goals.
Continue to lesson 2.
#2. Understanding How to Make Money Online
---
Lesson 2 of the Free Starter Course at Wealthy Affiliate is focused on the importance of building a foundation for your online business. There is a process to it that you ideally adhere to to be successful in the future.
The process of how Affiliate marketing works is directly explained by experts with 15 years of experience.
This is an important lesson as you will be introduced to the method of earning money online.
Continue to lesson 3.
#3. Choose a Niche
---
Lesson 3 of the Free Starter Course at Wealthy Affiliate is totally dedicated to choosing your Niche AND your audience. Perhaps this is what confuses a few members at the beginning, and in real fact, it should not. You can read more about it here.
The niche selected is important as you will be dedicating a lot of time and effort to build content for your audience; however, you can always change direction as you go along or start a new site with a new niche, so there is always a solution.
Experienced affiliate marketers also talk about selling a website, or having more than one website if you are planning to make this your FULL-TIME dedication.
Continue to lesson 4.
#4. Building Your Own Niche Website
---
Lesson 4 of the Free Starter Course at Wealthy Affiliate is the real FUN PART.
Here you will start building your own niche website and by the end of the lesson, you can actually access YOUR OWN WEBSITE live.
This step will give you DOUBLE satisfaction as your project starts shaping up, and you are creating it by yourself.
The Platform is so user-friendly that you can manage creating your website foundation and layout in NO TIME. Trust me, it was easy for me and I am not technical AT ALL.
Continue to lesson 5.
#5. Setting Up Your Website
---
Lesson 5 of the Free Starter Course at Wealthy Affiliate is about how to access your admin panel or the back office of your site; now that you have your site up and running.
Technical things need to be adjusted; as activating and updating required plugins
and the setting up and management of the Pages and Posts within your website.
Continue to lesson 6.
#6. Getting Your Site Ready for Search Engines

---
Lesson 6 of the Free Starter Course at Wealthy Affiliate is dedicated to SEO or Search Engine Optimisation. You must have already heard about it and it is definitely important to get used to SEO tasks from the very beginning, so you can apply them from the initial stages of setting up your website, and repeat them as you go along creating content.
SEO is important for search engines to find your website and content and so that you get RANKED on Google, Bing & Yahoo.
Make sure you do the tasks at the end of each lesson, as this will make it easier to remember the method in the future, and you can apply these tricks to all the content automatically.
Continue to lesson 7.
#7. Creating Your Initial Website Content

---
Lesson 7 of the Free Starter Course at Wealthy Affiliate guides you on how to write content that is communicative to your audience and content that ranks, keeping in mind the SEO points discussed in the previous lesson.
This lesson also gives you the assurance that everyone is capable to write even though you are not a professional writer. With time practice makes perfect and you will also start enjoying writing.
Besides, the platform includes a Site Content area with templates that help you build up and organize your content before you transfer and publish it to your real-life website.
The task for this lesson is to write your first content and publish it.
Continue to lesson 8.
#8. Creating Custom Menus on Your Website
---
Lesson 8 of the Free Starter Course at Wealthy Affiliate goes deeper into the proper organization of your website, so you learn how to make your site as user-friendly as possible. After all, if users can easily browse and navigate your website, it is more likely they will stay longer and read your content, share it, and also come back for more.
Keeping it simple is the best way to go.
Continue to lesson 9.
#9. Understanding Keywords
---
Lesson 9 of the Free Starter Course at Wealthy Affiliate is another key lesson in the life of an affiliate marketer. This lesson is about KEYWORDS.
Keywords are explained in detail and you will learn valuable insights and sensible advice from the experts on how to search and find quality keywords that rank.
You are also introduced to a most powerful keyword search tool called JAAXY, and you will be using the search tool firsthand as one of your tasks.
Continue to lesson 10.
#10. The End of Free Starter Course
---
Lesson 10 and the final lesson of the Free Starter Course at Wealthy Affiliate enlists all your achievements during this course and what to expect if you decide to step up to the next level of the course, which is where you then have to upgrade to Premium.
And Finally
I hope the above has helped you have a clear picture of what you can expect from the Wealthy Affiliate course, if and when you decide to enroll.
It is FREE OF CHARGE and there are only advantages if you decide to give it a GO since you have the opportunity to learn new skills at ZERO COST.
Let me know if something is not clear in the comments below. I will be glad to answer any of your queries.
Good luck