When it comes to blogging or building a website to eventually start making passive income as an affiliate marketer, one of the key factors to succeed is finding the right keywords to rank. In this article I will explain how to search keywords for a website.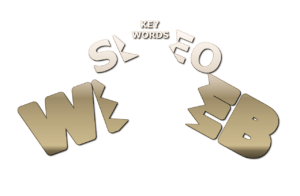 What is a Keyword?
A keyword is any search you enter on the search engines when you are looking for information. This could be just a word ´Thailand´ or phrase ´The best beaches in Thailand´.
When you search for keywords for your website, you need to find the low competition keywords that will enable you to rank on the first page and then people will find you and will click on your site.
There is a simple method of doing this by paying per click PPC, where you are basically paying Google or the search engine to place your ads on the first page. This is an effective way of getting traffic, however, this is not exactly cheap.
In this post I will explain how to search keywords for a website that will bring you traffic organically and without having to pay for advertisements.
---
Do an initial research online
Once you have an idea of what your next article is about, it is time to search for a good keyword. Start by looking manually for ideas and concepts in one or all the below FREE sites;
Google.com
answers.yahoo.com
ehow.com
In all the above you want to look for information about what the people are searching for in your particular niche or MMO marketing. Find out where people need help in line with the queries they make. Take note of it. See what phrases are most commonly used to request information or advice. You will then do the research and create content that will give the visitor the best and correct solution to their problem.
Google.com
You can enter a phrase in google search and then insert the letters of the alphabet before and after your search to get more ideas. I wrote about this in the article here.
Also, check out the People also ask section usually located after the first ranked article. There is usually a good number of questions that you can consider as good keywords.
answers.yahoo.com
Here you have questions and answers practically on all subjects you can think of from art to beauty to education, environment, health, business, travel, pets, sports, culture and many more. Have a quick look at what curiosities are arising and what people think. Then grab ideas for your niche.
Ehow.com
Ehow is all about learning, creating, fixing and building. If you are struggling with something you go to ehow and seek solutions on ´how´ to anything you need help with.
---
Insert Your Phrases in a Keyword Tool
Okay, so now that you have collected suggestions, you need to insert those ideas into a good keyword tool, to be able to search for proper keywords for your website.
What are the 3 results you should expect from a good keyword tool?
Keywords that makes sense. First of all it is important that the keywords you select are grammatically correct and make sense.
Keywords with low competition. You know what the competition for that particular keyword is.
Keywords that will draw traffic. What traffic should you expect if your keyword ranks.
---
Keyword Search Example
use Jaaxy keyword tool. Jaaxy is a powerful tool that has more features than just keyword information, and one of its main features is the keyword search tab.
The Enterprise version of Jaaxy is the highest membership you can get and it is very powerful, ideal for busy people who are after a tool that performs well at a click of a button.Every time you enter a phrase in the search tab you will get 35 search results at a very high speed, with all the information laid out in front of you for analysis. With just one click you can come up with as many keywords as you need for your content creation during the whole week. Then you can create lists and save the keywords for later reference and use.
What Jaaxy does, is extract the respective results from all search engine data base, based on your search.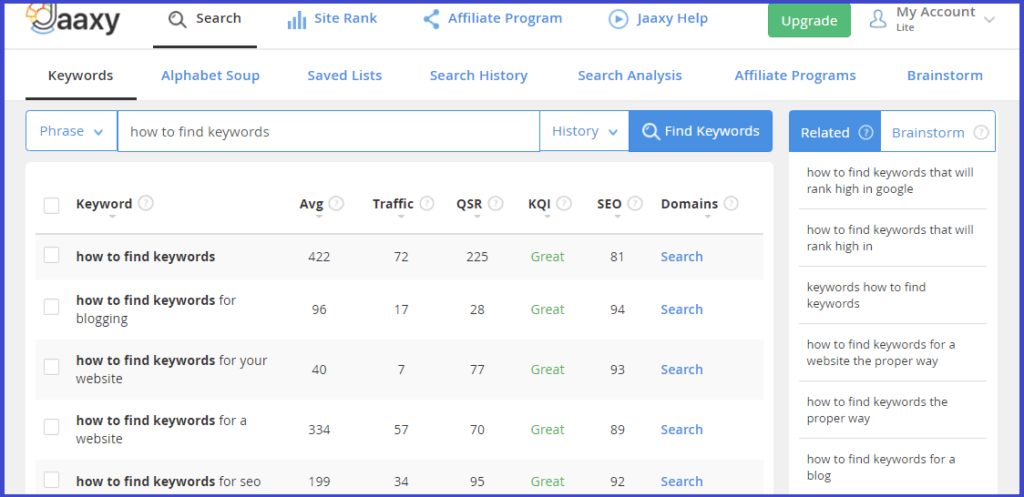 QSR & Avg explained

Keywords with low competition. QSR shows the number of competing articles/websites for this exact keyword in Google. For beginners ideally this should be lower than 30 and for advanced users, numbers below 300 are classified as low competition keywords that will rank.
Keywords that will draw traffic. Avg refers to the average number of searches this keyword receives every month. The higher number the better, but at least it should check out search of minimum 30. This reflects the traffic generated for that particular keyword.
When you come to decide which is the best keyword to pick you have to consider the above metrics. For example if you compare the below 2 results:
QSR of 3500 & Avg of 900
QSR of 30 & Avg of 700
The 2nd one is the best option for you as you need a keyword with less competition (QSR) to be able to rank on the first page of Google, Bing & Yahoo.
Get a free trial account at Jaaxy AND DO YOUR OWN RESEARCH. Go ahead and enter your phrase in the box below and click on Find Keywords.
You will have up to 30 free keyword searches on the free starter trial.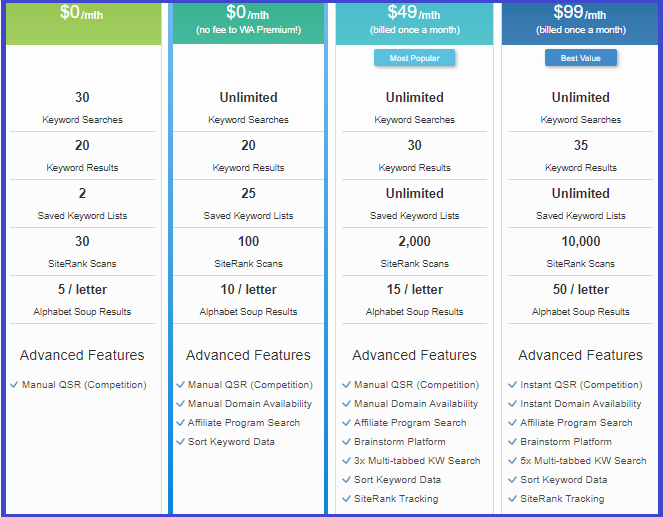 Jaaxy lite is included for free if you are a Premium member at Wealthy Affiliate.
---
Conclusion
Keep in mind there are thousands of potential keywords available in any given niche. You are going to target one keyword for every article you publish in your website.
Your goal is to rank on as many keywords as possible and knowing how to go about searching keywords is very important. I hope this article has helped you out. Please leave a comment below if you have any questions.
---
New to e-commerce? Get more information on how to create a blog and how to start off or step up in affiliate marketing.
---
Disclosure: This post contains affiliate links. For more information please see my disclosure here